Intralinks Deal Flow Predictor for Q4 2017
How will your region perform over the next six months? Find out – plus get a wealth of actionable market intelligence – in the current edition of the Intralinks Deal Flow Predictor.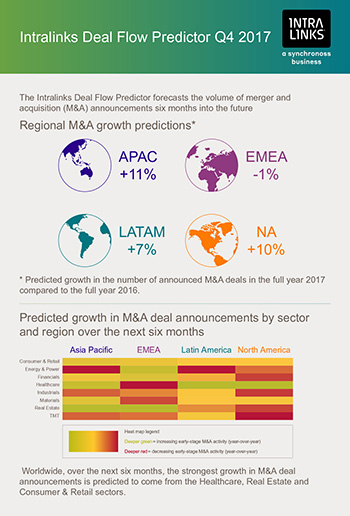 In this edition:
Global and regional M&A predictions for H2 2017

The Intralinks Dealnexus® Mid-Market Monitor: a global snapshot of new, actionable buy-side and sell-side M&A opportunities

A heat map of the most – and least – active sectors for M&A in your region

A spotlight feature on cybersecurity and its impacts on M&A transactions

An interview with Mr. Phillip Lovett, Managing Director, Credit & Structuring for UK Financial Sponsors at Royal Bank of Scotland, on the current state of mid-market financial sponsor financing
About the Intralinks Deal Flow Predictor
The Intralinks Deal Flow Predictor forecasts the volume of future M&A announcements by tracking early-stage M&A activity – sell-side M&A transactions across the world that are in the preparation stage or have reached the due diligence stage. These early-stage deals are, on average, six months away from their public announcement.
Accurate Predictions
The Intralinks Deal Flow Predictor has been independently verified as an accurate six-month predictor of future changes in the worldwide volume (number) of announced M&A transactions, as reported by Thomson Reuters. The Thomson Reuters data on announced deal volumes for the past four quarters has been adjusted by Intralinks for expected subsequent changes in reported announced deal volumes in Thomson Reuters' database.
To find out how the Intralinks Virtual Data Room can help you get your deals done faster, click here.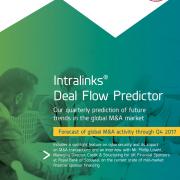 Read the Intralinks Deal Flow Predictor report.