3 minutes
Private Investment in Latin America Offers Uncertainty and Opportunity in 2022
27 September 2022
Our new report using PitchBook data investigates challenges and opportunities in the tenuous region.
Investors have taken note of Latin America's growth potential in recent years and poured significant venture capital (VC) into the region. Deal activity between 2017 and 2018 doubled and has continued a mostly upward trajectory ever since. Following an understandable slowdown in 2020, deal activity exploded in 2021, growing 266.4 percent YoY and exceeding USD five billion for the very first time.  
In 2022, however, the financial climate has shifted, and it seems unlikely that investors will duplicate the enormous gains seen in 2021. Rising inflation has taken hold, exacerbated by the Russian invasion of Ukraine and the resulting pressures on the oil and energy markets. A contentious Brazilian election in October threatens to shake things up further. Savvy investors are carefully weighing Latin America's immense potential against these destabilizing forces. 
Uncertainty in LATAM dealmaking 
As the continent's tech ecosystem has blossomed, VC firms have taken notice. The vast majority of VC funding has gone into Information Technology along with tech-driven consumer products and services. Although these sectors remain attractive, VCs have been closing their spigots as of late. In 2022, the total Latin American VC deal value declined 17.6 percent between Q1 and Q2.  
After two consecutive years of decline, private equity activity reached record heights in 2021, according to our new report, Private Investment in Latin America: An Emerging Market's Response to Global Headwinds, featuring data provided by PitchBook. 
Activity remains high and total YTD deal value as of August 2022 has exceeded the 2020 annual total. Latin American central banks are raising interest rates, requiring firms to write bigger checks as the cost of borrowing increases. Brazil, seen as the primary driver of Latin American Private Equity (PE) activity, has been especially aggressive here. Ahead of most nations, Brazil began raising interest rates in March 2021 — a preemptive move no doubt influenced by the country's history of hyperinflation. Overall, Brazilian deal activity has come down from the heights of 2021, but it still remains elevated compared to years past.  
Into the unknown 
PE dealmaking between Latin American countries has been mixed since the shakeup of 2020 and investment activity in non-Latin American companies still remains flat. However, between 2020 and 2021, firms outside of South America more than doubled their investment in Latin American companies. Global investors continue to find opportunities in the region and investors have closed more than USD 10 billion worth of deals there so far this year.  
M&A deal activity all but completely froze during the early days of the pandemic, with the deal rate dropping 62.5 percent between 2019 and 2020. 2021 saw a return to the (virtual) boardroom, and sustained activity has continued through 2022. The first quarter of 2022 was the biggest since 2019 and USD 23.7 billion has been generated so far this year — compared with USD 29.1 billion in all of 2021. Still, overall deal values continue to compare poorly with pre-pandemic levels.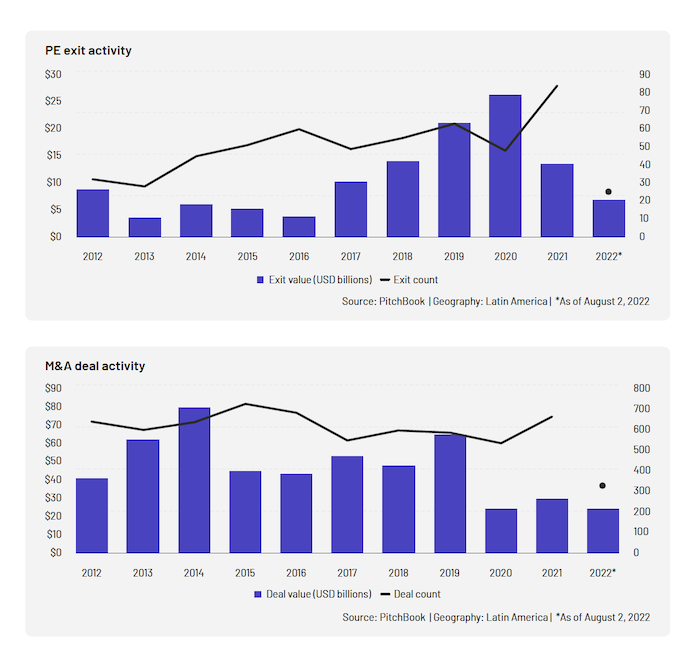 For investors and dealmakers, Latin America represents a vast playing field of potential growth. Yet, the closing months of 2022 offer numerous unknowns. Cross-border investment activity will be affected by Brazil's elections. High inflation remains a risk for non-commodity sectors. Investors will have to keep their eyes on these developments right through the final days of 2022.  
To read Private Investment in Latin America: An Emerging Market's Response to Global Headwinds in full, click here. 
Ryan Cook
Ryan Cook is a senior director of sales for alternative investments in North America. In this role, he oversees the sales organization responsible for driving the growth of Intralinks' Fundspace and Dealspace solutions with our largest alternative investment fund manager clients across North America and Canada. Ryan has over 15 years of direct sales and sales leadership experience with a focus on software as a service (Saas) in the Fintech space.
Sign up for our newsletter for must-read market analysis and thought leadership, delivered right to your inbox.