4 minutes
M&A Dealmaking in 2023: Full Speed Ahead or Applying the Brakes?
8 February 2023
New research from SS&C Intralinks and Mergermarket charts key themes and the likely direction of global M&A activity in the coming 12 months.
The global mergers and acquisitions (M&A) market stands at a crossroads. After a blockbuster 2021, in which the bounceback from the COVID-19 pandemic saw previous M&A records smashed, dealmaking activity came back down to earth from historic heights in 2022. The question now is where M&A activity heads from here — and new research from SS&C Intralinks and Mergermarket aims to answer that question in the 2023 Global M&A Dealmakers Sentiment Report.
In truth, 2022 was always likely to see a slowdown in the M&A market. For one thing, the scale of dealmaking over the previous 12 months was unprecedented — and artificially buoyed to some extent by deals delayed from the previous year when the COVID-19 health crisis caused so much disruption. Moreover, the economic backdrop has become progressively less supportive. Geopolitical tension, particularly the conflict in Ukraine, headwinds including rising inflation, the increasing cost of capital, and forecasts of slower economic growth to come have all weighed on dealmakers' minds.
Our survey of 300 global dealmakers set out to understand where dealmakers stand now after such a remarkable two-year period. Have the difficulties of recent months prompted them to pull back from M&A transactions, or have they retained an appetite to do deals? If the latter, what might drive that appetite in 2023 and beyond? Do dealmakers now have different objectives for their M&A activity?
Feeling Optimistic
The survey sample includes dealmakers from 225 corporates and 75 private equity (PE) firms, with 100 respondents headquartered in North America, 75 in Europe, the Middle East and Africa, 75 in Asia Pacific and 50 in Latin America. Amongst the corporates, dealmakers taking part in the research came from a spread of companies by sector and size; similarly, both larger and smaller PE firms took part.
Most of the dealmakers in this research are optimistic. They expect to see overall levels of M&A activity increase during 2023 — and they expect to do plenty of deals themselves. The slowdown seen in 2022 was to a level of activity that still looks very healthy by historical standards, they point out, and the conditions remain conducive for further dealmaking.
However, there are some important nuances to that positive overall message. The shape of M&A over the next couple of years now looks likely to shift as dealmakers respond to the external environment in different ways.
One such adjustment is that relatively few dealmakers expect to undertake M&A transactions that fall into the megadeal category. Rather, they anticipate most of their activity taking place in the mid-market (deals valued at less than USD two billion). That suggests at least a degree of caution from dealmakers worried about the deteriorating economic outlook.
The research also suggests that PE dealmakers are more upbeat than their corporate peers. The former are more likely, for example, to expect to do a larger number of deals over the next 12 months. Record levels of dry powder at the beginning of 2022 have not been fully deployed. Corporates, by contrast, are more directly exposed to the economic slowdown, as well as more likely to need to raise capital to do deals, and are therefore more likely to be emphasizing the need for caution as they consider M&A.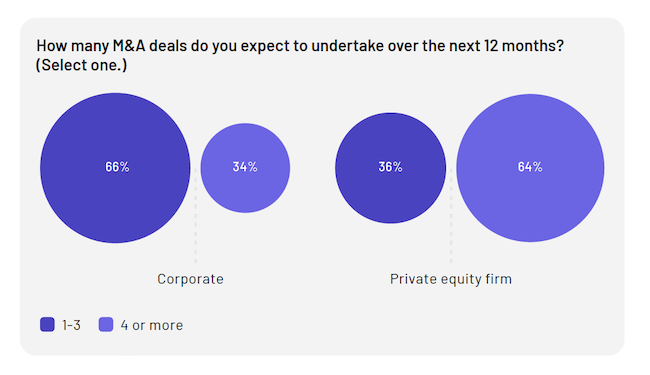 ESG Continues Its Rise
One other clear trend in this year's research is that environmental, social and corporate governance (ESG) issues continue to rise up the agenda. Many dealmakers point to ESG imperatives for M&A activity — they are looking to divest problematic assets such as those with a high carbon footprint, for example, or seeking access to businesses that can help them meet their ESG goals. Equally, a focus on ESG credentials has become a vital part of deal processes, with buyers anxious to scrutinize the claims made by sellers.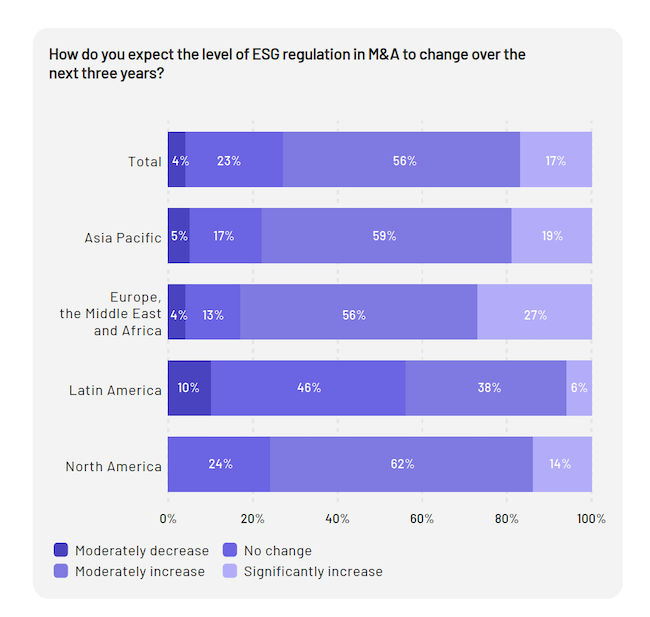 The bottom line, however, is that the research suggests 2023 will be another busy year for M&A activity. In no region surveyed does anything other than a minority of respondents expect to see decreased dealmaking. And every respondent in the research anticipates undertaking at least one transaction.
It would be unrealistic to expect deal activity to move back up toward the levels of M&A records in 2021. Even leaving aside the darkening clouds since then, that year was a one-off. Nevertheless, if M&A activity is in line with respondents' expectations, the next 12 months will be another busy period.
Click here to download your copy of the 2023 Global M&A Dealmakers Sentiment Report.
Matthew Wells
Vice President, Product Marketing
As Intralinks' vice president, product marketing, Matt Wells is a key member focused on the development and go-to-market strategy for Intralinks' M&A business which includes our virtual data room and deal lifecycle solutions. Matt joined Intralinks in 2012 upon the acquisition of PE-Nexus, a company he co-founded in 2010 that pioneered the concept of online deal sourcing and buyer identification. Before PE-Nexus, he was a vice president at Cross Keys Capital, a boutique advisory firm, where he focused on middle-market M&A transactions.
Sign up for our newsletter for must-read market analysis and thought leadership, delivered right to your inbox.