3 minutes
SS&C Intralinks Named Top Fintech Services Provider in APAC 2023
17 July 2023
The Financial Services Review honors SS&C Intralinks' industry-leading platform.
I'm pleased to announce that SS&C Intralinks has been named Top Fintech Services Provider in APAC 2023 by the Financial Services Review. This prestigious award recognizes our commitment to innovation in the Asia Pacific (APAC) financial services industry.  
This accolade is yet another acknowledgement of our consistent achievements in providing best-in-class technology solutions for our clients involved in global mergers and acquisitions (M&A) dealmaking, alternative investments and capital markets. Some of the other awards we took home this year include the 2023 Fortress Cyber Security Award, Tech Team of the Year and Best Investor Relations Technology Provider. These honors reaffirm our position as an industry leader, showcasing our dedication to delivering outstanding services.  
APAC is a dynamic region experiencing significant growth, with many emerging markets poised to create long-term returns for global investors. In fact, a recent report by the Boston Consulting Group, Global Fintech 2023: Reimagining the Future of Finance, predicts the region's fintech industry to grow at a compound annual rate of 27 percent by 2030. At Intralinks, we're excited to serve an important role in the region by offering a wide range of solutions and services that create value for buyers, sellers, investors and issuers. Our virtual data rooms (VDRs) are used for than 6,000 global transactions every year, including mergers, acquisitions, IPOs, capital raises, debt security offerings and more. 
Driving success in a challenging environment 
In a tight deal market defined by headwinds and increased regulatory scrutiny, robust due diligence is crucial to addressing potential downside risks. As disclosure requirements evolve, regulations change and enormous volumes of data are exchanged, the diligence process continues to grow in complexity and duration. Efficiency and data security have become top concerns. 
However, many organizations still rely on outdated due diligence tools such as spreadsheets, email exchanges and shared drives. These labor-intensive methods are rife with security risks that can stop a transaction in its tracks. 
Leading the way with innovative client-focused solutions 
Innovation and meeting our clients' needs are the heart of our business. We remain committed to delivering best-in-class solutions and support to help customers meet their business objectives. Developments in machine learning (ML) and artificial intelligence (AI) are playing an increasingly important role in helping organizations create value and execute high-stakes transactions. We continue to lead in these technological developments, offering AI-powered redaction and tools that expedite the due diligence process while reducing risk. 
To help our customers gain maximum leverage from our robust platform, we work in lockstep to ensure a smooth deployment. With 24/7/365, multi-tier customer service in 140 languages, our award-winning, dedicated customer support team serves global clients throughout their transactions — from onboarding to deal closing.  
Receiving this award is yet another testament to the powerful business impact of our industry-leading platform and support services. We thank the Financial Services Review for recognizing Intralinks' contribution to fintech growth in the APAC region.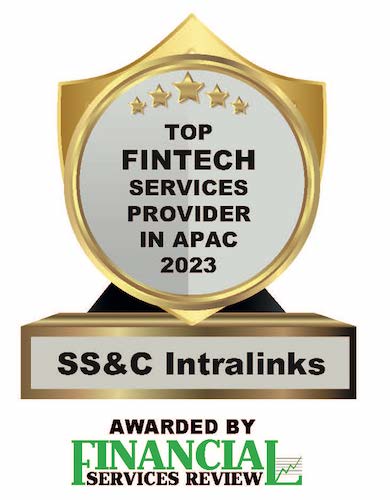 Sara Cheng
Senior Vice President, Asia Pacific, Banking and Corporates
Sara joined Intralinks in 2022 as the senior vice president of banking and corporates for the Asia Pacific region, leading a dynamic sales organization based in 13 countries. Prior to joining Intralinks, Sara managed both mature and start-up businesses and achieved growth through organic expansion and M&A activities.
Sign up for our newsletter for must-read market analysis and thought leadership, delivered right to your inbox.