3 minutes
ESG in EMEA: It's Getting Hot in Here
11 August 2022
Our exclusive survey of senior M&A executives underscores the irrefutable impact of ESG factors on dealmaking in Europe.
2022 has been beset by numerous climate-change-induced emergencies: famine in Madagascar, rising sea levels in South America and flooding in Australia, to name only a few. Historically temperate Europe is also under strain. June and July delivered record-breaking heatwaves, what some are glibly calling "the coldest summer of the rest of our lives."
These conditions are having an undeniable impact on dealmaking. Our exclusive new survey of 150 dealmakers in Europe titled Temperature's Rising: The Growing Importance of ESG to EMEA M&A, presented in association with Mergermarket, underscores the extent to which environmental, social and corporate governance (ESG) factors are filtering into mergers and acquisitions (M&A).
The practical effects are plain to see. More than two-fifths (41 percent) of our survey respondents say their team was driven by ESG in their latest M&A transaction, and a further 56 percent were at least cognizant of these concerns. More striking still, 41 percent reveal that their organization has abandoned one or more M&A transactions due to ESG-related issues.
Follow the leader
What is driving this surge in ESG mindfulness? For the most part, it is top-down leadership — 55 percent of dealmakers identify regulatory requirements as one of the top two reasons for their engagement with ESG.
It is to the credit of European policymakers that ESG has not been buried under a mountain of other concerns, with the region dominating as the world leader in this field. Europe has set the target of becoming the first climate-neutral continent by 2050, propelled by cleaner transport and transitioning to renewables. The latter point has been given a boost this year as Europe reconsiders its dependence on Russian hydrocarbons following the invasion of Ukraine.
Other events are fueling the ESG drive too. The inequities laid bare by the pandemic led people to re-examine the social contract on which our lives are based. The debates around diversity, equity and inclusion (DE&I), as well as human rights and labor standards, have come to the fore — 41 percent and 43 percent of our respondents, respectively, identify these considerations as being key to their organization in M&A.
Regulatory harmony
More important still are considerations linked to greenhouse gases, which are cited by 56 percent of respondents, reflecting the existential threat of climate change.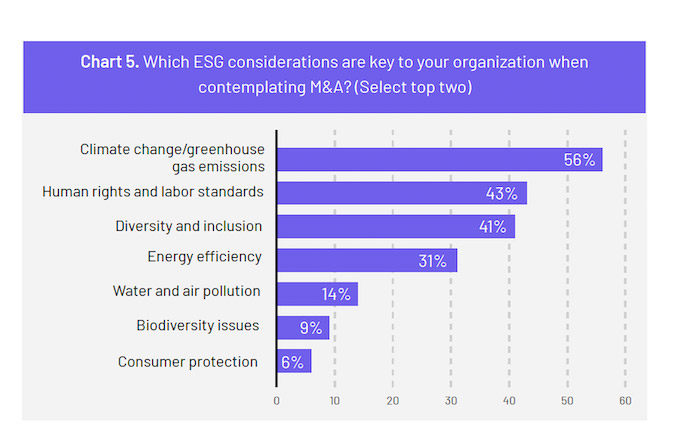 Source: Temperature's Rising: The Growing Importance of ESG to EMEA M&A
It is often all too easy to become dispirited by the discussion around climate change. In these moments, it is important to emphasize not only the moral imperatives of ESG initiatives but the vast business opportunities available.
Doing good can also be good for business. The majority of our respondents (85 percent) agree that a positive ESG record creates value for companies, thanks to the subsidies they can attract, in addition to the brand-enhancing qualities.
With the relevant taxonomies continuing to evolve, the question now is how best to integrate ESG metrics into organizations' day-to-day operations. It is an ongoing issue, with companies taking on board a range of potential metrics, though things will only become easier as regulation firms up and disclosure rules harmonize.
To download Temperature's Rising: The Growing Importance of ESG to EMEA M&A, click here.
Andrew Welch
Director, Sales – BeNeLux, Nordics & Middle East
Andrew Welch leads the sales organization at Intralinks for the Benelux, Nordics and Middle East regions. He has over 15 years of experience in the technology industry. He's worked for some of the world's largest industry-leading software and services companies across three continents (including SAP, DocuSign, Symantec and Xerox). Having driven digital transformation projects for some of the world's largest enterprises and built high-performing sales teams, Andrew's specialist knowledge and expertise sit within e-commerce, CRM and information security.
Sign up for our newsletter for must-read market analysis and thought leadership, delivered right to your inbox.