3 minutes
As Private Equity Fundraising Momentum Slows, New Opportunities Present Themselves
13 January 2023
Fundraising for general partners will be challenging in the new year, but the outlook has many opportunities for growth.
SS&C Intralinks looked at current trends in private capital fundraising in the brand-new report, Global Private Capital Fundraising, using data provided by PitchBook. Momentum has slowed compared with the gains made in 2021 due predominantly to a one-two punch of macroeconomic issues and geopolitical challenges. However, the data indicates that while private equity dealmaking has experienced deceleration, opportunities are plentiful for savvy investors.
Since venture capital (VC) deals fall on the speculative side of investing, the downturn of the stock market has hit that industry hardest. VC firms reacted by tightening their belts, placing more scrutiny on potential investments and pulling back on investment activity overall. In some cases, firms began to more closely manage the companies already in their portfolios while taking a more defensive stance with their existing investments.
This defensive positioning was not just chicken-little thinking: valuations dropped across multiple industries and private equity (PE) firms began to pick up target companies at bargain prices. 2022's macroeconomic challenges put some organizations on unsteady ground, making these companies ripe for acquisition and improvement and creating opportunities for future gains by PE firms with a nose for value.
What the Data Says
The data collected for 2022 thus far has not indicated a slowdown in the time taken to close private capital funds, but first-time fundraising activity has taken a big hit. Overall, limited partners (LPs) show a preference for larger, more experienced managers to navigate choppy economic waters. To date, only 293 first-time funds have raised capital in 2022, compared with 824 in 2021. Putting that in perspective: every year since 2016, more than 800 first-time funds have raised capital.
Amid frenzied, record-breaking dealmaking last year, dry powder was released in greater quantities to take advantage of favorable dealmaking conditions. Not so in 2022. Now, funds are focused on driving more of their returns through existing capital rather than trying to raise additional funding.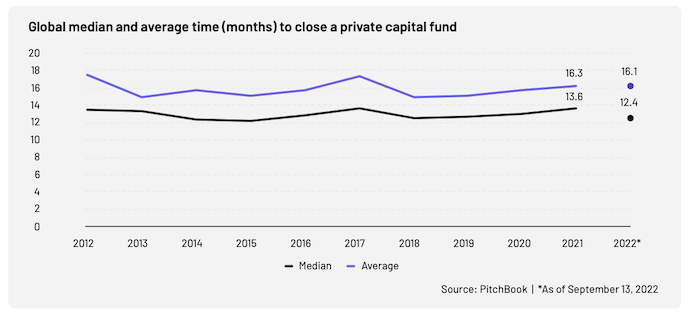 Big Challenges, Creative Solutions
Overall, 2022 global private equity activity stands in stark contrast to the flurry of dealmaking we saw just last year. In 2021, aggregate fundraising value hit a record high of USD 1.4 trillion in a worldwide effort to make up for lost gains in 2020. Current 2022 fundraising has reached just 60.9 percent of 2021's total.
However, for some forward-thinking firms, the less-frenetic landscape has allowed them to work more creatively with dry powder and take advantage of dipping valuations among otherwise compelling companies.
As we enter 2023, it will be interesting to see which general partners (GPs) have taken the most advantage of the cautious markets and will turn worldwide hesitancy and uncertainty into value creation for their LPs.
To read Global Private Capital Fundraising in its entirety, click here.
Meghan McAlpine
Sr. Director of Strategy and Product Marketing
As Sr. Director of Strategy and Product Marketing for Intralinks, Meghan McAlpine is responsible for the go-to-market strategy and driving the growth of the company's Alternative Investments solution, the leading communication platform for private equity and hedge fund managers and investors. 
Prior to joining Intralinks, Meghan worked in the Private Fund Group at Credit Suisse. While at Credit Suisse, she raised capital from institutional and high net worth investors for domestic and international private equity firms.  
Sign up for our newsletter for must-read market analysis and thought leadership, delivered right to your inbox.