Intralinks for Banking & Securities
Work smarter and better. Every step of the way.
Banks and securities firms face intense pressure to accelerate capital markets transactions and deliver the best financing deal terms to customers—all while navigating a complex regulatory environment. Securely sharing and collaborating on sensitive information throughout various stages of a debt or equity financing deal is critical, but without proper controls can become a source of regulatory and business risk.
Intralinks VDRs streamline the entire Financing Deal Lifecycle—from deal structuring through due diligence, reporting, and secondary trading. With uncompromised security and extremely detailed compliance monitoring and access tools, satisfy even the most scrutinizing of audits and address a myriad of industry regulations. Learn more about how Intralinks VDRs can enhance deal collaboration and performance and drive value throughout your transaction.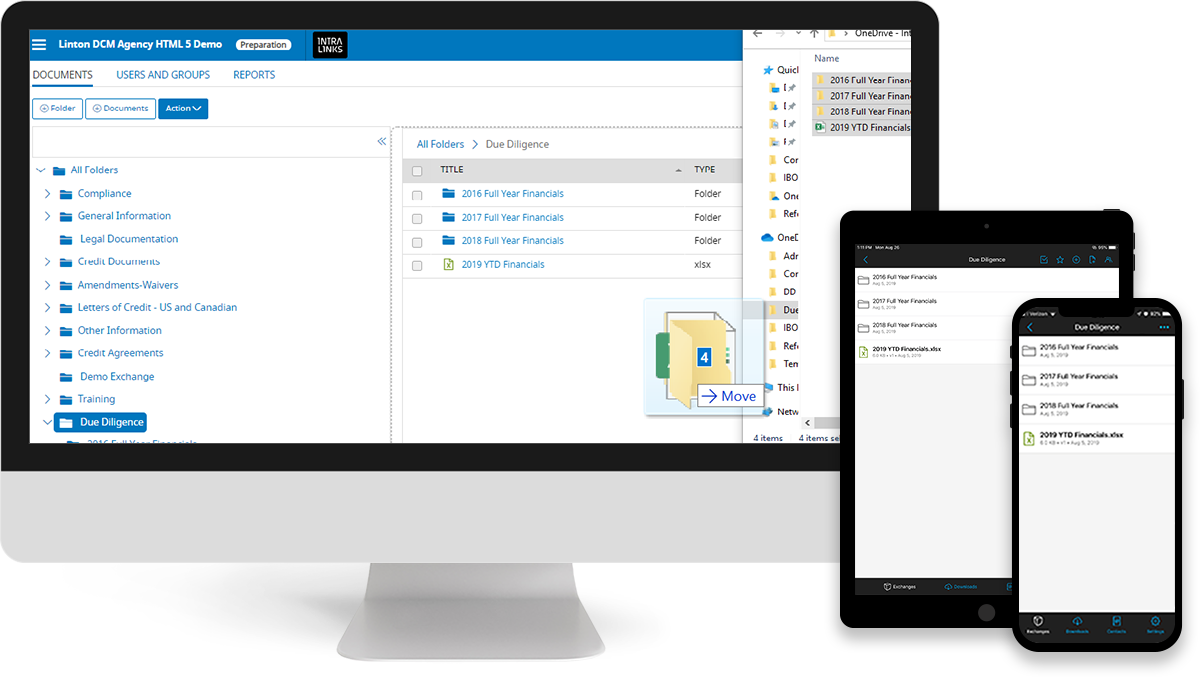 The Intralinks Financing Deal Lifecycle VDR features:
A clean, modern user interface
Fast exchange setup in just 3 clicks
Enhanced drag-and-drop for documents and folders
No plugins required
Banking & Securities Product Portfolio
Features
Designed for large-scale collaboration and document distribution, the Intralinks platform utilizes industry-leading best practices to empower teams of any size to work together safely, efficiently and globally.
Collaborate with anyone, anytime, anywhere - Work together in highly configurable workspaces, with 24/7 user support, native Microsoft® and Adobe® user experiences and mobile-file access.
Protect your information with on-demand security - Utilize granular access controls, plugin-free information rights management (IRM), customer-managed encryption keys and detailed reporting.
Streamline cross-boundary digital processes - Deploy custom solutions or leverage pre-configured, best-practice workflows, tasking, content templates, reports and services.
Connect to a global network - Integrate enterprise applications and information to enable purposeful collaboration across boundaries.
If leasing companies want to reach more buyers, increase margins and close deals faster, Intralinks is clearly the way they should go.
How to Update $400 Trillion in Contracts for LIBOR Transition.
Learn practical measures to take to prepare now.
Capital Markets
Accelerating and simplifying debt financing and bond transactions – from deal structuring to marketing and reporting – reduces costs, improves the bottom line and strengthens client relationships. Intralinks Virtual Data Rooms (VDR) help you with the following capital markets processes:
Commercial mortgage-backed securities (CMBS)
Asset-backed securities (ABS)
Private placements (144A and Regulation D)
Insurance-linked securities (ILS)
Initial public offering (IPO)
Explore Intralinks for Capital Markets
Corporate Lending
Streamlined communication and collaboration facilitates a smooth institutional lending process. The Intralinks platform can help you with customer relationship management (CRM), pipeline tracking, deal marketing, document distribution and voting and reporting amendments. Use it to:
Streamline commercial club and bilateral lending
Conduct loan syndication and servicing
Carry out municipal and community lending
Manage project and infrastructure lending
Explore Intralinks for Corporate Lending
Debt Sales
Intralinks can change the way you think about marketing the sale of loan portfolios and distressed debt assets. Use our VDRs to eliminate limitations related to geography, time and devices, so you can sell your portfolio faster. When disposing pools of debt, accelerate credit recovery with a structured data reconciliation process. Intralinks can improve your debt sales process with:
Real-time monitoring and business intelligence
Q&A process tracking
Intralinks UNshare® for information rights management
VDR archival services
Global customer support and professional services
Explore Intralinks for Debt Sales
Retail and Private Banking
Transparent communications are the cornerstone of customer and channel loyalty. Intralinks enables you to increase operational efficiency and reduce regulatory risk by better managing information sharing with customers and channel partners. Let us help you:
Conduct private wealth investor reporting
Enhance customer and partner communications
Manage broker and direct mortgage submissions
Coordinate regular information exchange and case management
Implement an eDelivery platform
Regulatory Risk and Compliance Reporting
Managing regulatory risk and compliance requires tools that let you increase transparency, control sharing of high-risk and confidential documents and secure the exchange of regulated information. Financial institutions use our platform to:
Conduct regulatory and compliance risk management
Prevent money laundering and other financial crimes
Reduce vendor risk and manage third parties
Manage regulatory submissions and document exchange
Coordinate financial monitors and auditing process
Execute data governance programs
---
of financial transactions
---
independent client-led security audits of data centers
Want to learn how we can benefit you?