VDRPro

Intralinks Virtual Data Room (VDR)
The fastest, smartest VDR anywhere.

How our VDR works.
Accelerate your next M&A deal with VDRPro from Intralinks – the world's most innovative virtual data room (VDR). Save time and money and keep deal value up with AI-assisted automated setup, preconfigured workflows and real-time insights that identify and rate your most interested buyers. Drive efficiency and better discovery with our new, intuitive user interface, and keep your deal moving with mobile capabilities, you can even conduct remote operational due diligence by seamlessly uploading Zoom videos of facility tours and management presentations to your VDR in seconds - all within your data room. Safeguard your project with Intralinks' unparalleled security for Mergers & Acquisitions dealmakers and remain compliant and audit-friendly effortlessly with a complete automated record of every activity in the virtual data room.
Intralinks' VDRPro is feature-rich and supported by an expert sales and engineer team well versed in every phase of the M&A deal lifecycle - for both buyers and sellers - from deal marketing and due diligence through Q&A, deal close, VDR archiving for compliance and audits, and post- merger integration. Our award-winning Dedicated Services Group will make sure your VDR is set up to maximize productivity, and our 24/7/365 support ensures that dealmakers and stakeholders will always have a direct line to Intralinks' experts.
See how we can help you accelerate the dealmaking process and close better on every deal, every day.
Download the Intralinks VDRPro fact sheet
Start your next big M&A deal
<
>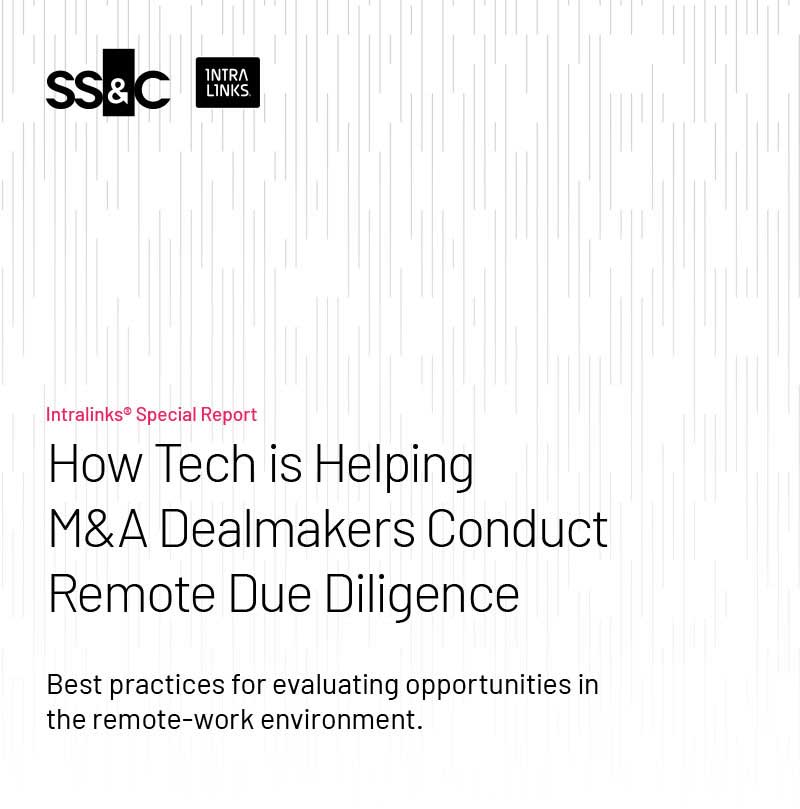 Remote

works

Learn how six leading dealmakers are using today's tech to power their remote due diligence.
Expertly designed, highly secure virtual data rooms built for the way you do deals.
Advanced Deal Prep – Launch VDRPro in minutes
Stage deal information – Organize deal documents before going live, so you're ready when it's time to launch due diligence
Expedited VDR setup – New enhanced drag-and-drop capability lets you rename and upload files and folders in bulk
Streamlined user invitations – An elegant, simplified process for adding users to your data room
AI Redaction – Redact PII and other sensitive content from deal-related documents seamlessly inside the data room, saving time and reducing risk
Artificial intelligence – Improve the M&A due diligence process by analyzing and managing files with integrated artificial intelligence
Insights Dashboard – Easily track and share group, user and document level activity in your VDR, to help you gauge engagement 
Detailed reporting – Gain insight around data room activity and document access, giving you the power to make data-based decisions
View as Other User – See your data room exactly as it would appear to invited participants, for added security and peace of mind
M&A Workflow™ – One-step document approval and automated publishing reduces risk, saves time and speeds deal prep
Video Support with Zoom Integration – Seamlessly upload videos like facility tours and management presentations to your VDR in seconds – all within your data room
As bankers, we understand the care that must go into sharing confidential documents. With Intralinks, there's only one source to check no matter how many documents there are. That makes it easier to maintain security and control, so we don't have to worry about security breaches or people sharing documents inappropriately.
---
are closed on SS&C Intralinks each year
---
of financial transactions
---
users from all corners of the globe
Security is at the heart of everything we do.
UNshare® – One-click to enable and one-click to retract a document with information rights management 
Watermarking – Flexible and customizable saving you time and effort
Permissions – Granular and easy to control permissions ensures that the right users have access to the right documents
Security & Compliance – GDPR-compliant, encrypted archives, in-region data storage and processing
Focus on the deal, not the technology.
Intuitive User Interface – Don't spend more time than you need to in a VDR, switch between data rooms, manage users, access reports all with ease. 
Mobile – Anytime, anywhere access to key data room capabilities and insights – never lose track of your most interested buyers, even when you're on the go
Auto-Indexing – Easily organize your VDR without the need to constantly update the index
Q&A – Simple, easy-to-use Q&A helps move your deal toward the finish line. Bulk import of questions, priority level and access level are all easy to control.
Support – Your deal doesn't sleep and neither do we.  Every deal has a dedicated M&A knowledgeable project manager and 24/7 support.
Intralinks VDRPro is feature rich and supported by real, live human beings.
Our services team will make sure your VDR is set up correctly, and our 24/7/365 end-user support ensures that your partners, employees and counterparties will always have a direct line to experts if they hit a bump.
Benefits
Grow your deal pipelines, accelerate deal flow and improve your M&A due diligence process.
Focus on your deal, not your software.
Lock down files anywhere and everywhere with UNshare capabilities and user permissions embedded in files.
Questions answered fast – and nothing falls through the cracks. We help you expedite Q&A, so you can fast-track your deals.
Activate pre-configured workflows, repurpose templates, add users and documents, and stage your VDR to ensure a quick start and seamless transition.
Securely access your virtual data room, and keep deals moving forward with native mobile apps.
Get VDRPro up and running quickly by renaming, permissioning and uploading files in bulk.
Control user access all the way down to the document level.
Keep deals moving with automated set up, document workflows, easy file management and integrated AI document analysis.
Award-winning customer support keeps you up and running, around the world.
Want to learn how we can benefit you?