Realize Your Business Vision on the Intralinks Platform
Our platform

 provides process management, information security and comprehensive compliance and reporting services that enable business ideas to flourish.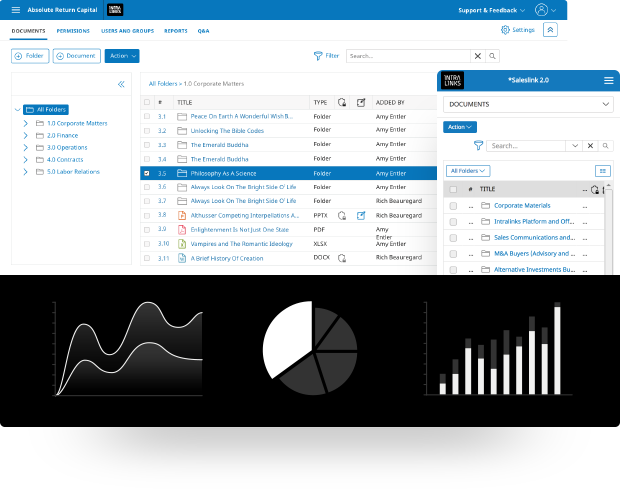 Architecture
Our Software-as-a Service (SaaS) platform is the most trusted financial technology for information sharing and insight in global banking, dealmaking and capital markets.
The Intralinks platform enables users to create purpose-built workspaces to manage content throughout the sharing lifecycle. 
User-friendly UI and intuitive functionality like drag-and-drop file upload

Secure mobile access

Granular file permission and user management

Bank-grade security features like information rights management and watermarking

Detailed usage and compliance reporting

Powerful full-text and metadata search across workspaces
Intralinks gives us a secure platform to be imaginative and creative with ways to share data and collaborate with our clients and other third parties. More to the point, it's easy and intuitive to use.
Audits and Certifications
Our platform secures your content wherever it resides or travels. We've been certified across industries and have passed hundreds of client audits. We welcome the opportunity to put our technology to your toughest tests.
APIs & Developer Portal
Whether you're leading an in-house development project or need to integrate with a third-party technology, we provide the tools you need:
Modern RESTful APIs that allow customers and developers to extend their investment in Intralinks while providing security and compliance at all points

The Intralinks Developer Portal provides a forum for questions, knowledge sharing and an easy-to-use Swagger framework for publishing APIs
Partners
We work with four types of partners:
Enterprise fabric partners offer a best-of-breed integrated suite of technologies that enable organizations to manage, secure and extend information security

Business application partners extend the value of Intralinks with their own purpose-built apps

Consulting and SI partners bring valuable industry-specific subject matter expertise to a variety of content collaboration solutions

Ecosystem partners have the size and scale to participate simultaneously across the other partner categories
Want to learn about our secure platform?