Data Sovereignty: Don't let Data Privacy Regulations choke your business.
Complying with data privacy regulations is an issue impacting all global companies.
What is data sovereignty?
Data sovereignty is the concept that information which has been converted and stored in binary digital form is subject to the laws of the country in which it is located. National governments around the globe are strengthening laws to protect citizen data, preserve national security, and, in some cases, protect local business interests. These data privacy laws significantly restrict how certain types of information may be stored and used by organizations and are being enforced by increasingly stiff fines and penalties. With various countries imposing so many different requirements, organizations face a regulatory patchwork of inconsistent, unclear and often contradictory demands.
The implications for multi-national companies are substantial: threats of regulatory action, disruptions to established business processes and requirements to tighten controls for handling and processing information that crosses national boundaries. Change is already here. For example, the recent overturning of the Safe Harbor agreement, governing how data was moved between EU countries and the U.S., compelled many companies to re-examine their own legal and policy frameworks for protecting personally identifiable data. 
To address the challenges emerging from new and pending data privacy regulations, business and technology leaders need to work collectively with their compliance, legal and technology teams to understand the impact regulations have on their business.
"The cost of regulatory compliance will be substantial, but the cost of non-compliance will be higher."

—Ovum, "Data privacy laws: Cutting the red tape"
Ovum Report - Data privacy laws: Cutting the red tape
New research shows businesses are vulnerable to future data privacy regulations.
Learn more
Forrester: Does the cloud put data sovereignty compliance out of reach?
Take a deeper look at the complex issue of data sovereignty in the Forrester study, "Data Sovereignty and SaaS."
Bloomberg BNA - Privacy and Security Law Report®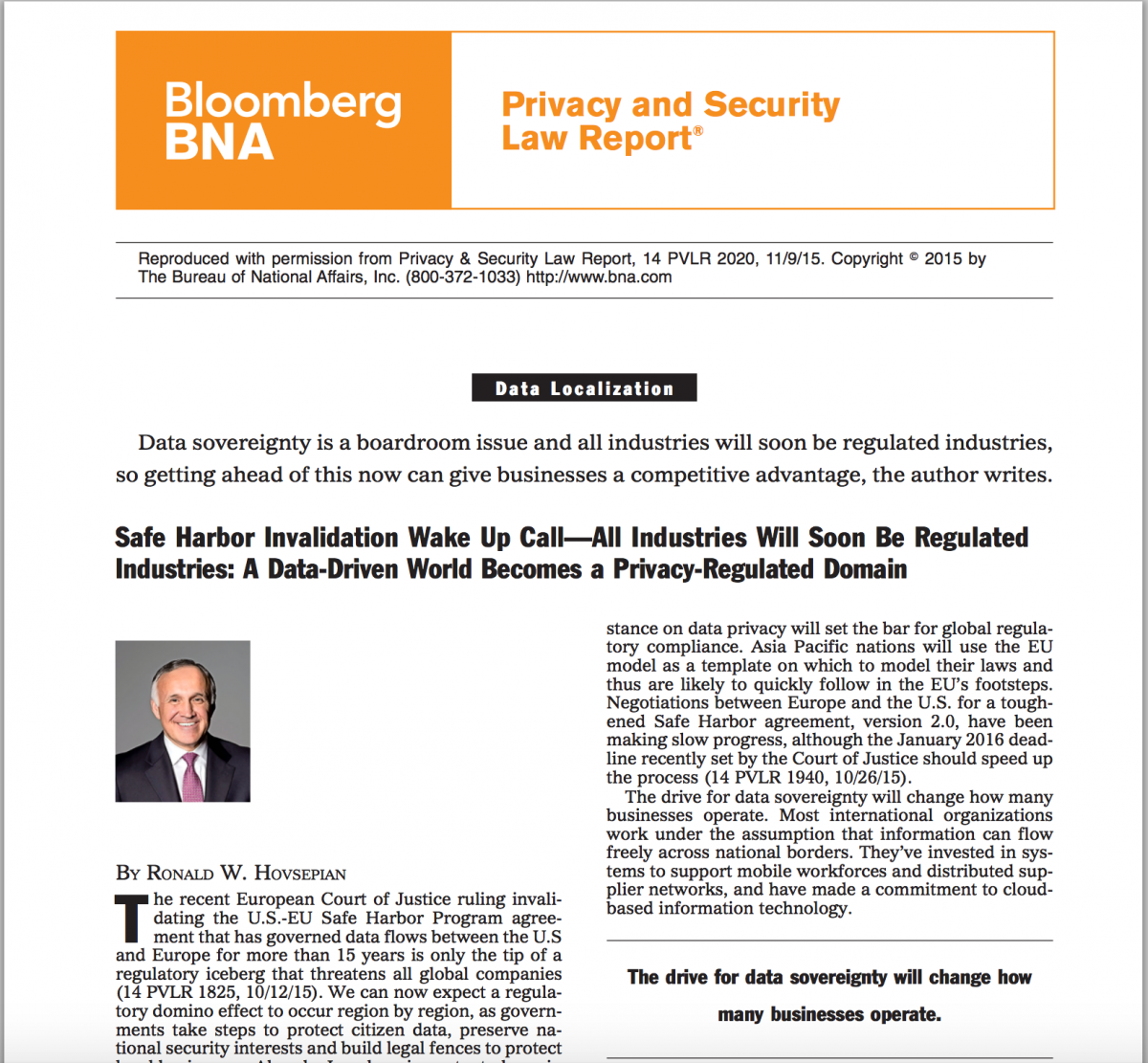 Data sovereignty is a boardroom issue and all industries will soon be regulated industries, so getting ahead of this now can give businesses a competitive advantage, the author writes.

 
From our blog: Safe Harbor is Dead. Long Live Safe Harbor…?
Data sharing has almost been taken for granted in the past few years. Certainly from a technical perspective, secure data sharing has become much easier for businesses thanks to advances in cloud technology in particular.
Intralinks' Approach Compliance Assured. Potential Unlocked.
Global enterprises need technology partners that understand how regulatory changes impact businesses. They need partners with the experience and expertise to help address the compliance challenge. 
At Intralinks, we have almost 20 years of experience working in highly regulated industries to provide secure, complaint and effective solutions for content collaboration and file sharing. Working closely with our customers in financial services, life sciences/pharmaceuticals, professional services, manufacturing and energy, we have already taken steps to address the challenges emerging from new and pending data privacy regulations:
Chief Privacy Officer – Intralinks was one of the first cloud collaboration companies to appoint a global privacy officer, with overall responsibility for ensuring our policies and governance processes meet the highest regulatory standards.
Process and governance – Intralinks is committed to providing our customers with the vendor commitments they need to comply with global regulations. For example, Intralinks began implementing EU Model Clauses in our agreements well before the recent ruling undermining the legal status of Safe Harbor protections. We have also announced our commitment to Binding Corporate Rules, another way in which data can be transferred internationally, and in a compliant manner. 
Global data centers – Intralinks has invested in providing local data centers in jurisdictions where controlling data location is critical. We have data centers in the US and UK, and, with our strategic partner HP, we have announced plans to open more data centers in Germany and Australia.
Customer Managed Encryption Keys (CMK) – Intralinks was one of the first companies to separate physical information storage from the point at which the encryption resides. With CMK, businesses can benefit from the cloud and distributed data, while still placing ultimate control over their high-risk information in a regulated jurisdiction.
Information Rights Management (IRM) – Intralinks IRM by design™ provides lifetime control of protected documents, regardless of where files are stored. The greatest risk to information comes when it is in use, and Intralinks' integrated IRM technology enables businesses to maintain full control of information wherever it is shared.
Forrester Consulting Study: "Data Sovereignty and SaaS"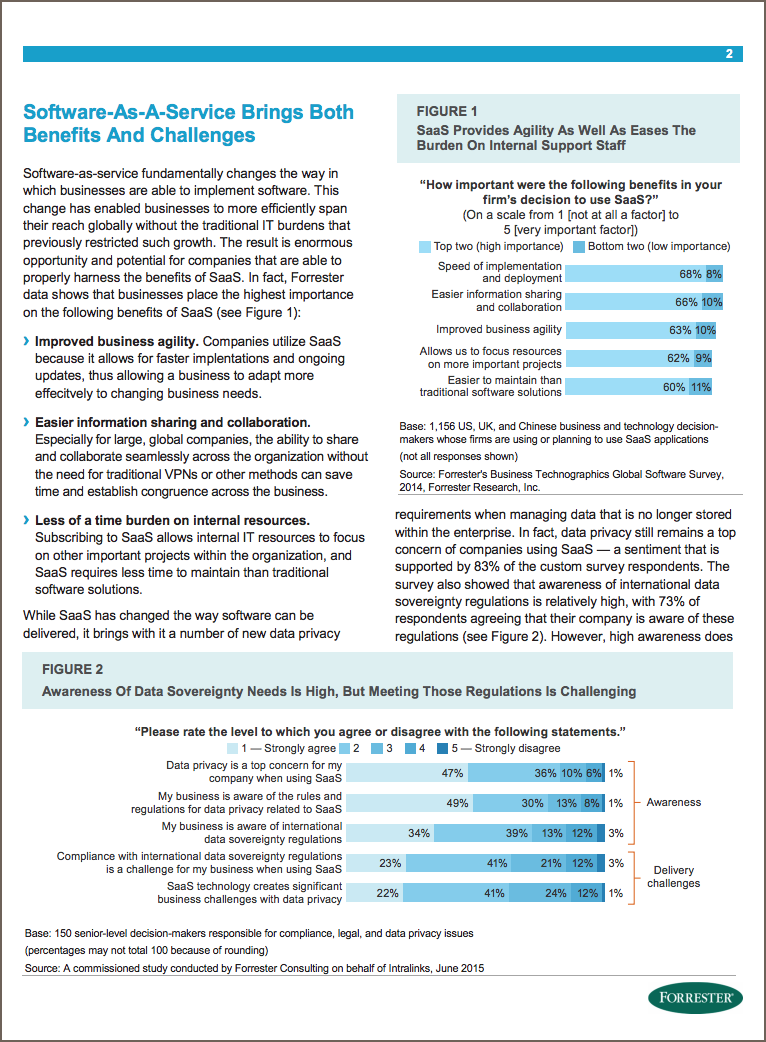 Conducting business on a cloud-based platform while remaining compliant with emerging global regulations.
---
Webinar Recording: Data Sovereignty and the Cloud
Read the webinar executive summary
Intralinks White Paper: "Does the cloud put data sovereignty compliance out of reach?"


A look at the complex issue of data sovereignty as enterprises begin to embrace SaaS technologies.
 
---
Webinar Recording: The Top Five Things to Know About Secure File Sharing
Read the companion whitepaper from Osterman Research