DealManager

Deal Management for M&A
Clearly better deal management.
Simplify the evaluation and execution of deals with a purpose-built tool designed to provide complete pipeline visibility.
Get a clear view into your M&A deal pipeline with Intralinks DealManager® and see how easy it is to manage deal flow once you've got the right tools. Easily catalog and search everything from teasers to closing documents in a highly secure repository. Then monitor all transactions with audit trails and reporting tools. Keep all the information you need at your fingertips, and execute your M&A strategy with clear, well-structured data. 
See how Intralinks DealManager can give you control over your deal pipeline.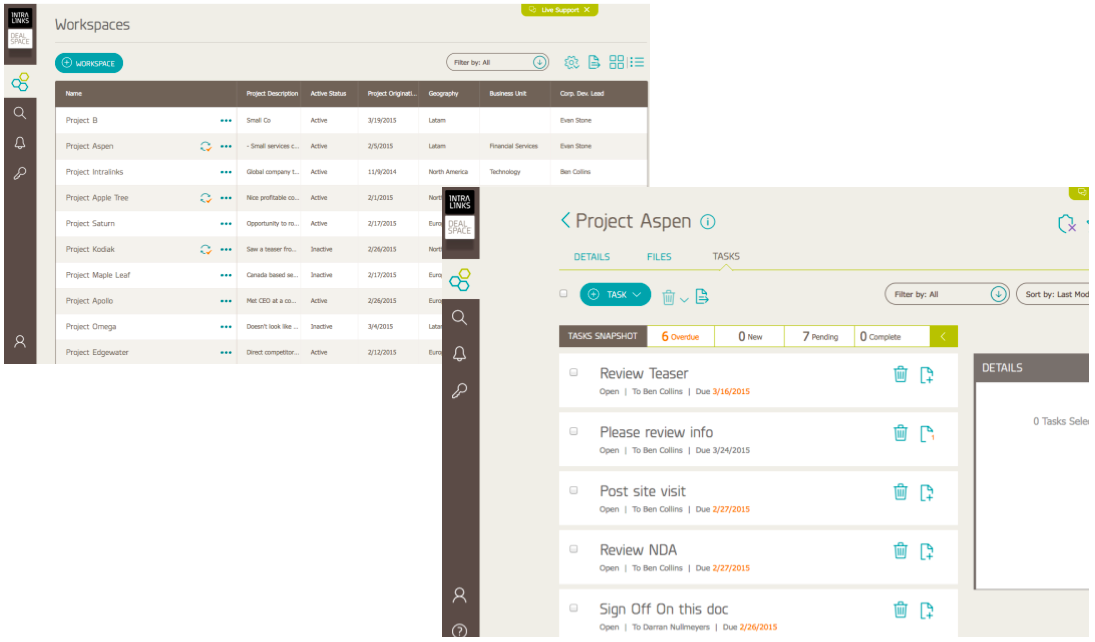 Implement a standardized process to evaluate and execute acquisition opportunities with Intralinks DealManager.
Simplify complex corporate development decisions with a centrally-stored, secure, living archive of M&A deals

Quickly generate real-time reports that provide insights and updates on your deal-related activities

Control who has access to what by customizing access down to the folder level

Utilize Intralinks DealManager's tasking engine to reduce the burden of manually assigning and tracking task progress
Seamlessly transition information from early evaluation through M&A due diligence and post-merger integration

Enjoy complete visibility of deal activity with the pipeline dashboard
Intralinks was secure, reliable and flexible for our needs. We saved considerable time and money.
---
are closed on SS&C Intralinks each year
---
of financial transactions
---
users from all corners of the globe
Benefits
 Intralinks Dealmanager streamlines the way you manage deal flow.
Intralinks DealManager syncs with Intralinks Virtual Data Rooms so that the right content is always at your fingertips.
Intralinks DealManager automates the tracking and assignment of tasks so that you don't have to micromanage your deals.
Safeguard corporate data and enforce security policies for files anywhere and everywhere with information rights management and user permissions embedded in files.
Utilize Intralinks as the secure, centralized repository to catalog and store your critical deal information.
Intralinks DealManager allows you to quickly prepare for executive briefings with reports only a few clicks away.
Want to learn how we can benefit you?