5 minutes
How Did the COVID-19 Pandemic Affect M&A Deal Leaks?
14 September 2021
Our annual research study investigates if the "new normal" of remote work impacted deal leaks.
After the world has experienced a year as unusual as 2020 was, the status quo can seem quite surprising. But according to a study conducted by SS&C Intralinks and the M&A Research Centre (MARC), Bayes Business School (formerly Cass), the percentage of global M&A deal leaks changed relatively little from 2019-2020 — despite the shadow of the 2020 COVID-19 pandemic.
The MARC team defined a "leaked deal" as one that is public and had experienced significant pre-announcement trading activity. The research team sourced deal reports from SDC Platinum, and the share and index price data were sourced from the Thomson Reuters DataStream Database. Between January 1, 2009 and December 31, 2020, 14,288 deals were downloaded. The final sample consisted of 10,359 bids.
It's important to note that while leaks may be unintentional, they're sometimes done purposefully (and illegally) to start a bidding war or with the goal of altering a company's valuation. No matter how they occur, they can affect a transaction in many ways and dramatically impact the reputations of all parties involved.
The MARC study found that 8.2 percent of all deals announced in 2020 involved a leak, compared to 8.7 percent of all deals announced in 2019. Real Estate (12.7 percent), Retail (10.3 percent), and Energy and Power (9.8 percent) were the three sectors with the highest pre-announcement abnormal trading in 2020.
"The fact that a significant part of the dealmaking process had to take place virtually in 2020 probably helped firms ensure that leaks were avoided when this was critical," notes Dr. Valeriya Vitkova, a research fellow at the M&A Research Centre and one of the study's authors.
"Given the fact that total deal volumes and values remained stable in the first and even second quarters of 2020 and, in fact, significantly grew throughout the second half of 2020 and early 2021, I don't think that this finding is surprising," she explains. "Net-net, there was not much disruption in the M&A markets in general and as a result, we would expect that there will not be any disruptions in the incidence of deal leaks."
Value of leaks on the decline
Places where the MARC authors did find notable changes, however, were in the dollar volumes of leaked deals. Total values were down 50 percent in 2020 compared with 2019 figures: USD 69 billion versus USD 139 billion from the prior year. The average dollar value of leaked deals also fell by 44 percent; from USD 1.8 billion in 2019 to USD 1.1 billion in 2020. According to Dr. Vitkova, this might suggest that acquirers and targets were particularly cautious about information leaks when larger transactions were involved.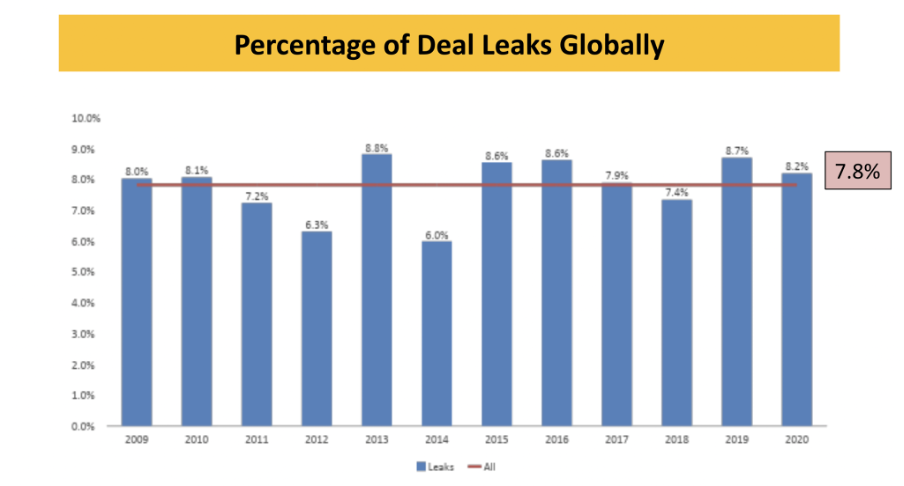 "Being extra careful in situations where the stakes are high makes sense and firms were perhaps less concerned about information leaks involving smaller and probably less consequential transactions," she says. "Also, these larger deals are the ones where there is greater external scrutiny, especially from the regulators as they expand their attention to more deals."
The study also found significant regional variation around pre-announcement abnormal trading. The Americas experienced a 1.6 percent year-on-year increase in 2020. This stood in contrast with Europe, the Middle East and Africa (EMEA) and Asia Pacific (APAC) regions, which saw drops in deal leaks of 1.9 and 1.6 percentage points, respectively. Dr. Vitkova believes that the intense political activity that hit the U.S. last year — and the impact that it had on the stock market — may have driven up the number of North American leaks. 
"Market volatility provides opportunities for leaks, and insider trading can be a part of this process," she points out. "Opportunistic traders may have felt that this is a 'safer' environment to engage in insider trading since it is more challenging for regulatory bodies to detect trades based on information leaks and private information when you have increased market volatility in general."
And the leakiest countries of 2020 are…
Despite the lift in leaks in the Americas, the world's hotspots weren't the leakiest. Instead, the three countries with the highest leaked deal activity were South Korea (12.5 percent), India (11.9 percent) and Hong Kong (10.3 percent).
Asked why these three countries/regions were found to be atop the list, Dr. Vitkova explains: "When we look at the entire period since 2009 — when our first leaks report was published — we see that these three countries have traditionally been among the top in terms of deal leaks. That said, a high level of perceived or even actual insider trading is a factor in regulators 'getting tougher' as we saw about a decade ago in the U.K., which had had a much higher level of 'leakiness' than [they do] currently."
Regardless of reason or intentionality, leaked deals did seem to offer an advantage in 2020 — at least for sellers. Last year, 6.1 percent of leaked deals attracted one or more rival bids compared to 4.9 percent of non-leaked deals. They also took less time to complete (median of 63 days) compared to deals without a leak (median 82 days). In 2020, the median takeover premium for targets in leaked deals was 63.6 percent compared to 28.5 percent for non-leaked deals — a gap of 35.1 percentage points.
These findings indicate that deal leaks will continue to pervade the market well into the future. "Leaking has been very attractive during the last few years, at least from the point of view of the target firm," explains Dr. Vitkova.
From a buyer's perspective, however, this is bad news, as leaks appear to drive up transaction costs. Acquisition targets may be tempted to intentionally leak information to boost premiums. Acquirers should remain extra cautious that no information is released to the market ahead of time.
"I think that if the current trajectory of booming M&A markets continues; we may see a higher incidence of deal leaks in the coming years," adds Dr. Vitkova. "I look forward to seeing what happens with the trend of deal leaks in 2021."
Matthew Wells
Vice President, Product Marketing
As Intralinks' vice president, product marketing, Matt Wells is a key member focused on the development and go-to-market strategy for Intralinks' M&A business which includes our virtual data room and deal lifecycle solutions. Matt joined Intralinks in 2012 upon the acquisition of PE-Nexus, a company he co-founded in 2010 that pioneered the concept of online deal sourcing and buyer identification. Before PE-Nexus, he was a vice president at Cross Keys Capital, a boutique advisory firm, where he focused on middle-market M&A transactions.
Sign up for our newsletter for must-read market analysis and thought leadership, delivered right to your inbox.