7 minutes
The 2022 M&A Outlook for North America
6 December 2021
The rebound of North America's M&A market is like no other, and dealmakers are struggling to keep pace with an unprecedented surge in activity. According to our exclusive SS&C Intralinks Global M&A Dealmakers Report 2022, a survey of 300 global dealmakers produced in association with Mergermarket, expect much of the same in the coming year.
In the first three quarters of 2021, USD 2.1 trillion was invested across 6,494 deals. From a volume perspective, this puts North America, which is dominated by the U.S. market, in a similar range as Western Europe. But in value terms, no other region comes close, and this is a high not previously seen in North America.

The scale of the U.S. government and Federal Reserve's stimulus program rapidly brought markets back to life following the H1 2020 collapse in stocks and mergers and acquisitions (M&A) markets. Since then, activity has been on a tear in the U.S., led by an unstoppable Technology sector. Technology, Media and Telecom (TMT) alone accounted for 40 percent of all dollars invested up to the beginning of Q3 and continues to be a defining investment theme amid the pandemic.

Headline deals in the sector in 2021 include videoconferencing giant Zoom's USD 15.5 billion takeover of U.S. contact center technology provider Five9, its largest trade to date.

With deal flow records being smashed and some of the largest transactions ever made successfully closing, investors in North America are more bullish than their counterparts in any other region, our research finds. Almost half (47 percent) predict an increase in dealmaking and a further 29 percent expect a significant increase.

Moreover, almost a third (30 percent) of these respondents expect to undertake four or more deals over the next 12 months, a larger share than any other region, and 28 percent, again higher than any other region, expect to undertake megadeals valued at USD 10 billion-plus. There is no end in sight to the current gold rush.
Regional drivers and challenges
The hopes and fears of dealmakers in North America are fairly unique to the region and reflect the market's innovation and rich technology on the opportunity side, while wrestling with the U.S. political climate on the risk side.

From a deal driver perspective, 16 percent believe that pursuing digital transformation will be the strongest motivator for transacting, followed by 12 percent who see pushing deals over the line before tax and regulatory conditions tighten as a factor that will add to deal momentum.

It is no coincidence that the Biden administration has made raising corporate tax rates a policy priority. So far, the focus has been on pushing through the stalled USD one trillion infrastructure bill, which will have the secondary effect of creating employment and stimulating growth. However, this project will need to be paid for with tax revenues, and investors and corporates see this coming down the pike.

Indeed, 17 percent of North American respondents of our SS&C Intralinks Global M&A Dealmakers Report 2022 say higher corporate tax rates are the biggest risk to their M&A activity. The same share of people cites the ongoing impact of COVID-19, slightly above EMEA and APAC, which may reflect the degree of vaccine hesitancy in parts of the country. However, the very largest share of North American respondents (27 percent), like their peers in APAC and EMEA, say the biggest challenge will be rising regulatory scrutiny.
The COVID effect
It's difficult to argue with the numbers. The U.S. is experiencing a bona fide M&A boom and, understandably, 47 percent of North American respondents say COVID-19 has precipitated an increase in dealmaking appetite, 17 percent saying it has sparked a significant increase. No other country has seen government stimulus on the scale of the U.S. and this has filtered into financial and M&A markets, with abundant debt financing, opportunities to raise equity and a huge demand for acquisitions.

More capital chasing limited deals inevitably leads to a pricing squeeze. It is difficult to judge for how long this situation will persist. Some view current inflation rates in the US economy as being transitory and that prices will normalize in due time, and the same may be true for M&A too, once pent-up demand works through the system. For 18 percent of respondents, lower valuations are expected to be a key post-COVID market trend, followed closely by an increase in lapsed deals and more corporate carve-outs, each with 17 percent of the vote.
As elsewhere, the primary challenge for post-COVID M&A, according to the largest share of North American respondents (17 percent), will be more complex due diligence processes, followed closely by the difficult economic environment (16 percent).
All eyes on ESG
Environmental, social and corporate governance (ESG) issues have been given greater priority under the Biden administration, his flagship infrastructure bill focusing on mitigating climate change. This change of direction at the government level appears to be influencing expectations in the M&A market. North American respondents fall somewhere between their peers in advanced-stage EMEA and more-nascent APAC — almost three-quarters (73 percent) are expecting ESG scrutiny in deals to increase over the next three years, including 27 percent who predict a significant increase.

The primary ESG considerations when contemplating a deal are greenhouse gas emissions and carbon management, and water and wastewater management, cited by 42 percent and 40 percent respectively. Compared with their peers in other regions, North American respondents pay relatively little heed to energy efficiency-related considerations, with only 24 percent saying this is a factor in investment decisions.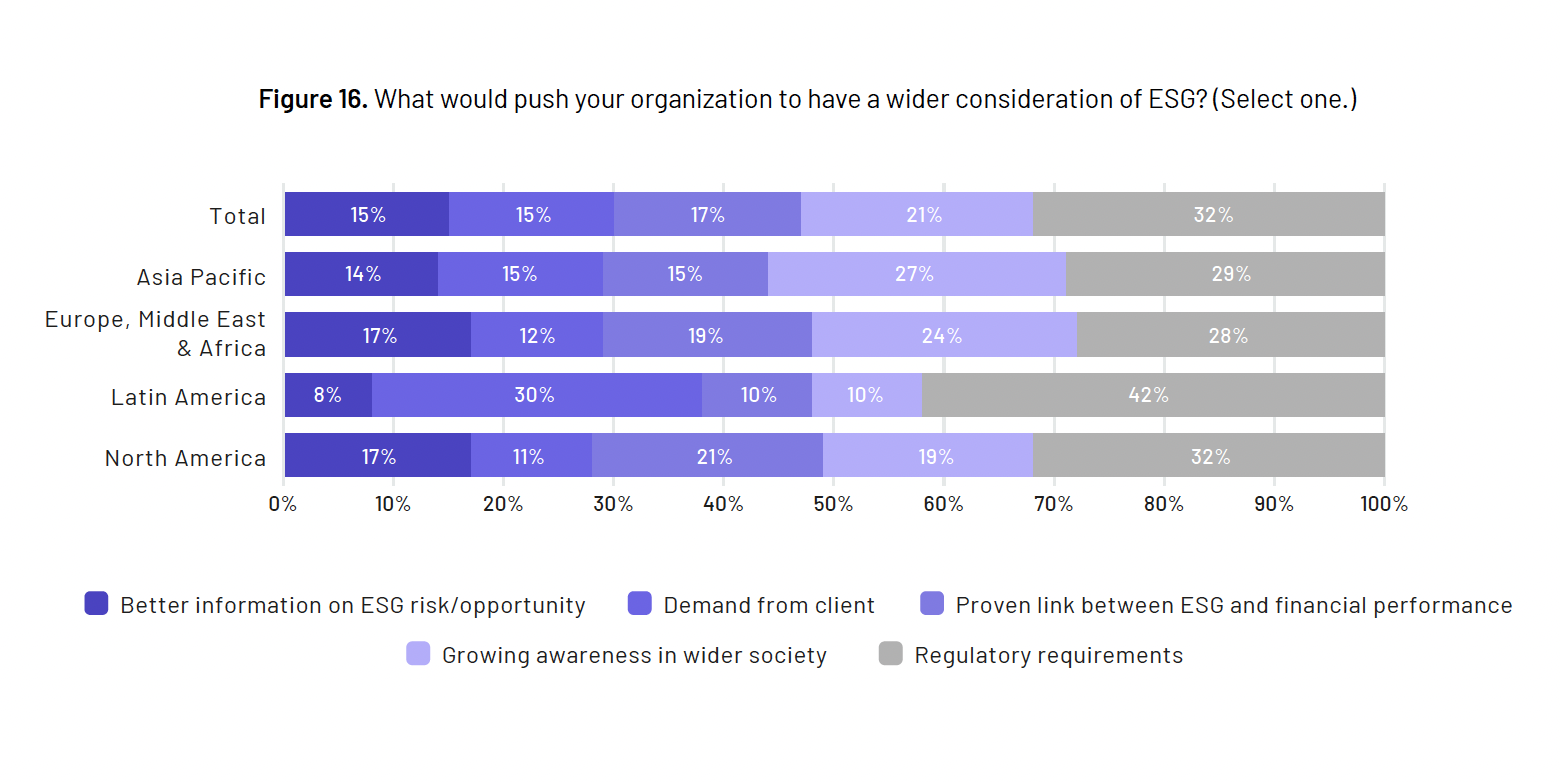 As is the case in other parts of the world, the most important challenge facing North American respondents when making ESG-oriented investments is lack or quality of sustainability data, as flagged by 23 percent of the cohort. Efforts are being made to address this lack of transparency in the U.S. In May, President Biden signed the Executive Order on Climate-Related Financial Risk, which aims to identify, measure, assess and disclose related risks to government programs and assets.

Further, the Securities and Exchange Commission has indicated that it will publish a notice of proposed rulemaking on climate risk disclosures, following a public consultation on the matter. The upshot of this latter development is likely to be mandatory non-financial reporting requirements for large U.S.-listed business, improving investor access to sustainability data.
However, it is not only a lack of data that North American respondents find challenging when evaluating ESG considerations in M&A situations. Nearly one in five (19 percent) say that a lack of knowledge and expertise is holding them back, which respondents in other parts of the world are less likely to reference. Dealmakers will need to close this knowledge gap quickly to flourish in a more heavily regulated deal environment.

Indeed, like their peers in other regions, at 32 percent the biggest share of North American respondents cite the importance of regulatory requirements for pushing their organization to have a wider consideration of ESG. The second key motivator for action is a proven link between ESG and financial performance, cited by 21 percent, which is less of a concern in other parts of the world, potentially because organizations elsewhere already feel like this has been confidently answered. 
What lies ahead
North America has never experienced an M&A boom like it has seen in 2021. Investors are confident and expectations are high, but with Q4 delivering the highest stock market volatility since Q1 2020 and with so much deal activity already on display, it is reasonable to expect an easing off to more sustainable levels.

Economic risks have not subsided and while 16 percent of North American respondents say that their primary area of focus in 2021/22 will be strategic acquisitions, an almost equal share of 15 percent will be prioritizing cost reductions, reflecting the fine balancing act that companies and investors will have to perform in the near term as the economy continues to recover from the effects of COVID-19.

The biggest challenge, meanwhile, as cited by 16 percent, will be legal and regulatory issues other than protectionist policies and measures, including factors such as money laundering and the environment. With the government enacting the expansive Anti-Money Laundering Act of 2020 in January of this year and tightening ESG mandates looming on the horizon, dealmakers have much to think about in today's crowded M&A market.
To get the full picture of what lies ahead for M&A in North America and the rest of the world in the coming 12 months, download the SS&C Intralinks Global M&A Dealmakers Report 2022 here.
Ken Bisconti
Ken Bisconti is a Co-Head of SS&C Intralinks. In this role, Mr. Bisconti is responsible for the end-to-end management of the organization along with Bob Petrocchi. He formerly served as Chief Product Officer for Intralinks where he developed a very deep and insightful understanding of market needs and strategic opportunities for Intralinks and put those insights to work defining the organization's product offerings.
Sign up for our newsletter for must-read market analysis and thought leadership, delivered right to your inbox.