8 minutes
A Disciplined M&A Strategy Is the Engine Driving Mutares' Growth
2 March 2022
Europe-based private equity firm's sweet spot is acquiring firms in "special situations."
Mutares is a publicly listed private equity (PE) company headquartered in Munich. Commanding annual revenues of around EUR 2.4 billion in 2021, the firm actively acquires small- and medium-sized targets in "special situations" that have synergies with its portfolio companies.
To learn more about Mutares' turnaround acquisition strategy, I spoke with Katerina Zenz, head of investment: Austria & CEE, who provided insight into the firm's outlook for 2022, the rationale behind opening an office in Austria and why post-merger integration is as important as due diligence.
SS&C Intralinks: Can you provide a short overview of Mutares?
Mutares focuses on acquisitions of medium-sized companies in special situations. Potential acquisition opportunities are usually succession-driven or carve-outs from large corporates, such as underperforming non-core assets that have significant operational improvement potential and need to be repositioned as a stand-alone company.  
Mutares is a private equity firm publicly listed on the Frankfurt Stock Exchange (Prime Standard). We are an active investor with our mergers and acquisitions (M&A) and operations teams. Whereas the M&A team focuses on deal acquisition and execution, the experts in the operations team take care of the development and restructuring of our investments post-closing. Mutares primarily invests in companies that have an established business model and operate along three industry segments: Automotive & Mobility, Engineering & Technology and Goods & Services. Platform investments usually range between EUR 20 million and EUR 500 million in terms of revenues. Potential add-ons can be smaller in revenue and are chosen dependent on the synergies with the current portfolio. Due to a bond of EUR 80 million and the recent capital increase of EUR 100 million as well as several successful exits per year, Mutares is capable of financing acquisitions as well as potential restructuring and/or growth of its companies from its own balance sheet and is therefore very flexible in time and structure, unlike traditional private equity (PE) funds.
With 22 portfolio companies and over 150 employees on the holding level, we are one of the leading private equity companies focused on special situations in Europe. We currently have offices in Munich (HQ), Paris, Milan, London, Frankfurt, Stockholm, Madrid and Amsterdam and opened an office in Vienna in January 2022.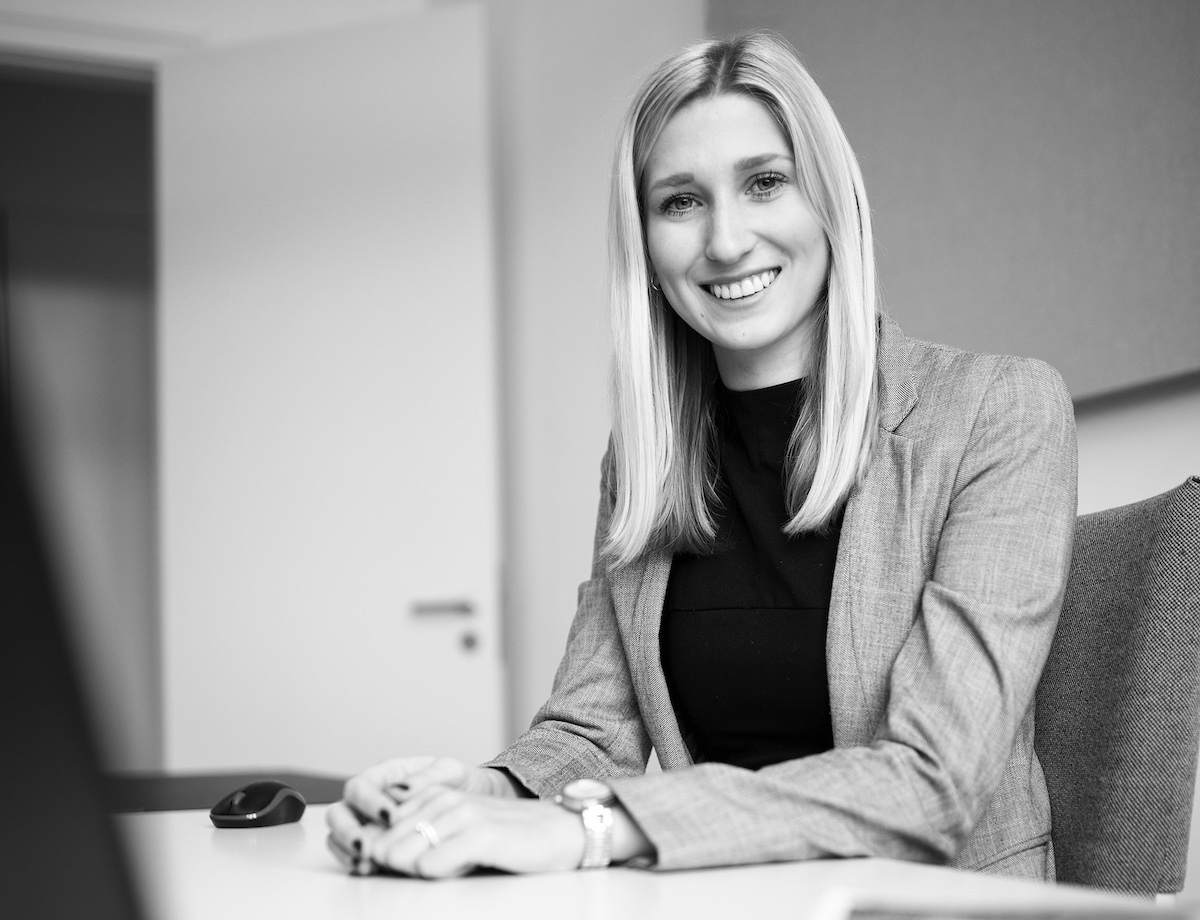 (Above) Mutares' Katerina Zenz, head of investment: Austria & CEE. "For Mutares, the post-transaction phase tends to be equally as important as the due diligence phase, as we aim to review which additional steps can be taken after closing to ensure a more environmentally friendly value chain."
What was the reason behind opening the office in Vienna?
We made the first acquisition in Austria in the year 2019, when we bought ÖBB's logistics subsidiary with approximately EUR 180 million in revenues, now known as BEXity. The transaction showed us that Austria has a large potential for us, not only for larger deals such as BEXity, but also for smaller succession-driven deals, as there are many hidden champions within the Austrian mid-market. As the market is locally driven and various projects do not become visible across the border, we see a large potential by having a local presence. Additionally, even though Eastern European markets are becoming stronger with many local offices being opened, Vienna can be still considered a gateway to Eastern Europe, which we plan to take advantage of. With the fact that many banks are cleaning up their portfolios and large corporations are restructuring their investments in Eastern Europe, we believe we will be perfectly positioned to seize these projects and expand our investments to Eastern Europe.
Furthermore, the Austrian industry still has a lot to offer in the typical "old economy" segment, which fits perfectly with our investment criteria. Last year we saw several well-fitting projects, such as the sales of Gebauer & Griller, MAN Truck & Bus Österreich GesmbH, Wolf Plastics and others mainly in the steel or automotive segments.
What trends do you see and expect in the Austrian automotive market?
As in any other country, the Austrian automotive market has been highly influenced by the current electro-chip crisis. In Austria, the year-on-year comparison of PKWs sold in 2021 versus 2020 is minus 3.6 percent, meaning that the electro-chip crisis hit the local market even worse than COVID-19 did. Within the automotive industry as such, we have seen a large increase of distressed M&A deals since summer 2021 and a surge in insolvencies since September 2021. Due to the lower call-offs or complete production stops by OEMs as a result of supply bottlenecks last year, decreases in revenue of up to 30 percent have become very common across the automotive-supply base. As a result, suppliers have low revenue without being able to adjust the cost-base in time. Combined with rising raw material prices that we have seen last year of magnesium, aluminium and polypropylene, many suppliers that do not have a stable profitable base are forced to file for insolvency if cash injection is not an option. This applies mostly to Germany's large automotive suppliers such as A Kaiser, Bolta-Werke, Heinze Gruppe and Emil Bucher that are all filing for insolvency. However, the same trend is starting to emerge in Austria, for example, with the insolvency of STS Formtechnik in Voitsberg. Of course, this trend has been exaggerated further in 2022 due to the recent turbulent political developments and peak of energy and gas prices.
We believe that this crisis will continue throughout 2022. With two new semi-conductor plants being opened at the year-end, we believe the situation concerning electro-chips will start to normalize next year.
One area that we expect to progress is autonomous driving. Autonomous driving is prohibited in Austria, but we believe that smaller steps toward the goal will be taken, more specifically via individual functional offers that are accessible to the customer step-by-step through assistance systems. Through gradual implementation, these innovations can be continuously matched with regulatory safety requirements. After the launch of the first autonomous shuttle service in 2018 by SURAA, other companies such as ALP.LAB are working toward safer automated driving in Austria and this is important for the permission of autonomous cars in general, as it was announced in Vienna that self-driving cars will be only allowed when it can be proven that they are significantly safer than cars driven by humans.
A last major trend I would like to mention that is further intensifying in Austria and will continue in 2022 is a shift toward electric cars. This can be seen by electric-driven investments in Steyr from Volta Trucks, AVL's battery innovation center in Grazer Stammsitz or the Kreisel team gaining more attention in recent years.
How are environmental, social and corporate governance (ESG) and electric cars affecting the M&A industry?
We usually see two types of deals in the market concerning this topic: one where there is a chance to move the product portfolio toward parts that can be used in a hybrid and/or an electric car, and the other, where the only option would be a wind-down scenario, that the seller does not wish to conduct themselves. For us, only the first case is especially interesting, as we engage in proactive management with the aim to grow companies further.
The move toward electric cars has further intensified the wave of consolidation within the automotive sector that was stemming from a change of strategy of original equipment manufacturers (OEMs), where their preference shifted toward a few large system/module suppliers rather than a scattered component-supplier base to reduce complexity in purchasing.
Now, in addition to that, many strategic players are looking for add-ons to accelerate their know-how and growth within the electro segment. Smaller manufacturers will most likely not be able to handle the shift from combustion engines on their own, and if they don't get acquired, they might search for cooperation that will enable them to adjust to future demands. Unlike other automotive suppliers, producers focusing on parts used in electric cars have not been hit by the abovementioned electro-chip crisis as hard, since OEMs such as Daimler or BMW focus their production on premium models with higher margins as well as on electric vehicles. This means that the current trading of electric-focused suppliers is often better than originally budgeted, as most of the electro chips are being used on superior models that they either help to produce or on electric cars as such to meet their CO2 targets.
Concerning ESG, it has certainly become a topic of more and more importance within the last few years. We aim to integrate this topic more into our investment approach and extend our ESG due diligence compared to previous years. Since our investment focus is largely on production companies, it is essential to understand the management of wastewater, carbon and energy that the targets have in place in order to face regulations and other external demands. Additionally, as OEMs are paying attention to whether their tier one suppliers fulfill their corporate responsibility, especially in sustainability, the matter is also important for future revenue generation of the targets we acquire.
For Mutares, the post-transaction phase tends to be equally as important as the due diligence phase, as we aim to review which additional steps can be taken after closing to ensure a more environmentally friendly value chain. The typical assessment includes a variety of key environmental, social and governmental issues such as a review of the implemented code of conduct, anti-corruption and bribery regulations, supplier code of conduct and annual sustainability reports, to name a few. Sustainability is more than just an environmental issue for us.
As a group of companies, we have a duty toward our employees and society and are committed to good corporate governance. At Mutares, we live up to this responsibility through groupwide reporting and monitoring activities relating to environmental, social and governance issues after the acquisition. Each topic has defined KPIs that are tracked on a regular basis as well as set training for employees to ensure compliance.
Roland Petrenkó
Roland Petrenkó is a senior account executive responsible for Austrian, German and Swiss clients. Prior to joining SS&C Intralinks, he worked for Clairfield International, Raiffeisen Bank International, Erste Group Bank and UniCredit. During his investment banking career, he gained transaction experience in multiple industries, focusing primarily on TMT and Consumer Goods.
Sign up for our newsletter for must-read market analysis and thought leadership, delivered right to your inbox.