Intralinks for Alternative Investments
Join the largest community of GPs and LPs anywhere.
In 2017, more than $1 out of every $2 raised globally for the private equity industry was done on our platform. Intralinks is the leading private equity and hedge fund technology provider, and we host the largest community of general and limited partners with more than 245,000 LPs from over 57,000 organizations, including endowments, foundations, consultants, pensions and sovereign wealth funds.
Intralinks is used to raise capital, report on fund performance and manage portfolio companies efficiently, transparently and in total compliance.
Streamline operations, reduce risk and boost efficiency with the industry's best private equity and hedge fund technology provider.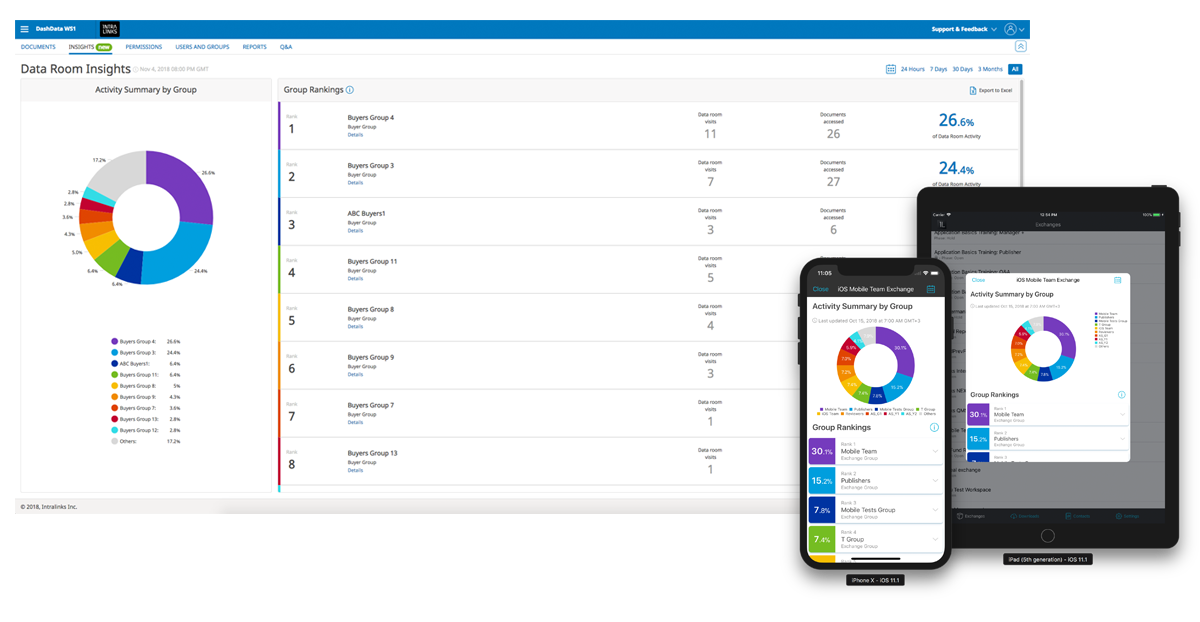 What's new in our market-leading virtual data room?
Automated third-party approvals, publishing and permissions
View as Other User feature
Insights Dashboard upgrades 
And more
Alternative Investments Product Portfolio
As the leading private equity and hedge fund technology provider, we can help you: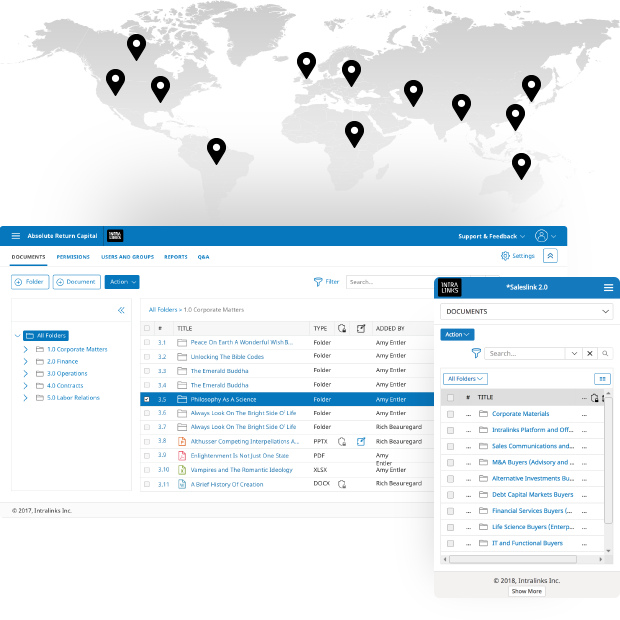 Standardizing on Intralinks for file sharing has reinforced security, compliance and file control. It makes me comfortable to have people use Intralinks, because we know there is a full audit trail.
Supporting 1500+ alternative investment firms around the globe.
<
>
More than $1 out of every $2
---
raised globally on our platform
---
of financial transactions
---
individuals from 57,000 organizations use our fund reporting portal
BENEFITS
Work faster and smarter every step of the way, with:
Skip the learning curve. Intralinks preconfigured workflows help you start faster with automated setup, easy file management and integrated artificial-intelligence-powered document analysis.
Safeguard corporate data and enforce security policies for every document, everywhere. Lock down files anywhere and everywhere with IRM and user permissions embedded in files.
Use automatic compliance tools to track and maintain document history, and never sweat an audit again.
Be a part of the largest investor community for alternative investments. 
Focus on your investors, not your software, with our intuitive user interface.
Let the computer do the scut work, so legal can check out the red flags. That's how artificial intelligence makes due diligence faster and more accurate. 
Manage and access investment information securely with native mobile apps.
Want to learn how we can benefit you?