EMEA M&A Markets Set for Recovery in 1H 2018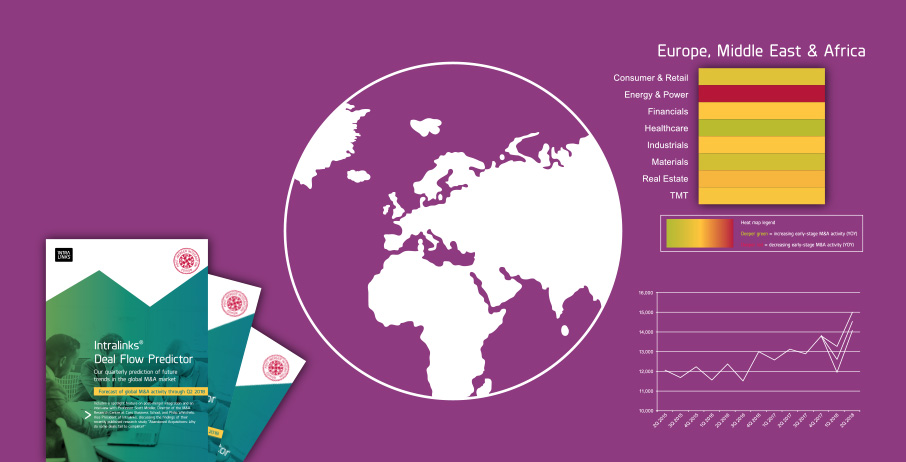 Despite the uncertainty over Brexit, the outlook for M&A in Europe, the Middle East & Africa (EMEA) is looking brighter. According to the latest Intralinks Deal Flow Predictor, early-stage M&A activity in EMEA increased 14 percent year-over-year (YOY) in Q4 2017, the fastest rate of growth in six quarters. As a result, Intralinks predicts around 3 percent YOY growth in the number of EMEA M&A deals announced in 1H 2018. We expect the strongest growth in EMEA deal announcements to come from the healthcare, materials and consumer & retail sectors in the Middle East & Africa, Eastern Europe and Northern Europe.
Global and regional M&A predictions for 1H 2018, including a heat map on sector activity
A spotlight feature on post-merger integration and deal success
An interview with Professor Scott Moeller, the director and founder of the M&A Research Centre at Cass Business School, and Philip Whitchelo, vice president, strategic business development at Intralinks, on the findings of their recently published study into abandoned acquisitions and how to avoid the deal failure trap

If you want to know the future of global M&A six months ahead of everybody else, download your copy of the Intralinks Deal Flow Predictor here.
Laurent Sultan
Laurent Sultan is vice president of sales for Europe, the Middle East & Africa at Intralinks