Latin America M&A: Road to Recovery
According to the latest Intralinks Deal Flow Predictor, early-stage M&A activity in Latin America (LATAM) increased 43 percent year-over-year (YOY) in Q4 2017, but the number of announced M&A deals fell by 19 percent. Early-stage M&A activity in LATAM has increased YOY for five consecutive quarters, confirming the region's return to growth which is being driven by increasing consumption and a firmer recovery in Brazil, economic and monetary reforms in Argentina, energy-sector liberalization in Mexico, as well as improving commodity prices and stronger demand from the US. Largely due to a strong performance in the first half of 2017, we predict a 4 percent YOY decrease in the number of announced LATAM deals in 1H 2018.
Image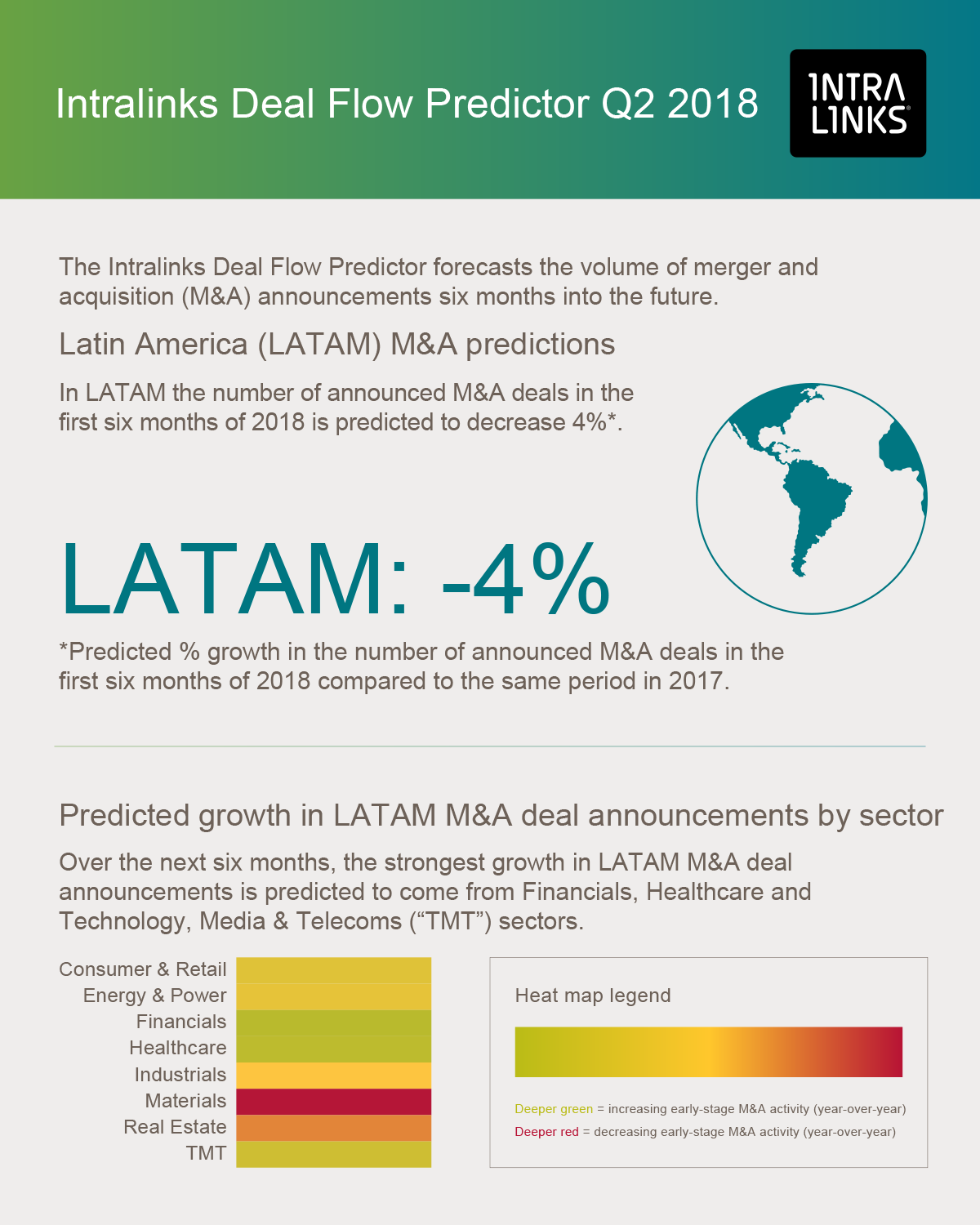 Global and regional M&A predictions for 1H 2018, including a heat map on sector activity
A spotlight feature on post-merger integration and deal success
An interview with Professor Scott Moeller, the director and founder of the M&A Research Centre at Cass Business School, and Philip Whitchelo, vice president, strategic business development at Intralinks, on the findings of their recently published study into abandoned acquisitions and how to avoid the deal failure trap

If you want to know the future of global M&A six months ahead of everybody else, download your copy of the Intralinks Deal Flow Predictor here.
Claudio Yamashita
Diretor da Intralinks Brasil
Claudio Yamashita é Diretor da Intralinks Brasil, responsável por vendas e operações. Ele tem 15 anos de experiência em soluções de tecnologia e colaboração com empresas de software globais, como Oracle, Ericsson e Amdocs. Durante sua carreira, se concentrou em capacitar empresas com serviços e soluções de computação em nuvem para ajudar as organizações a melhorarem o fluxo de trabalho e a produtividade. Com experiência na região, o Sr. Yamashita está na Intralinks desde que a Sede Regional foi aberta em 2010 e lidera a equipe no Brasil desde 2012.