Worldwide M&A Activity Set for Strong First Half in 2018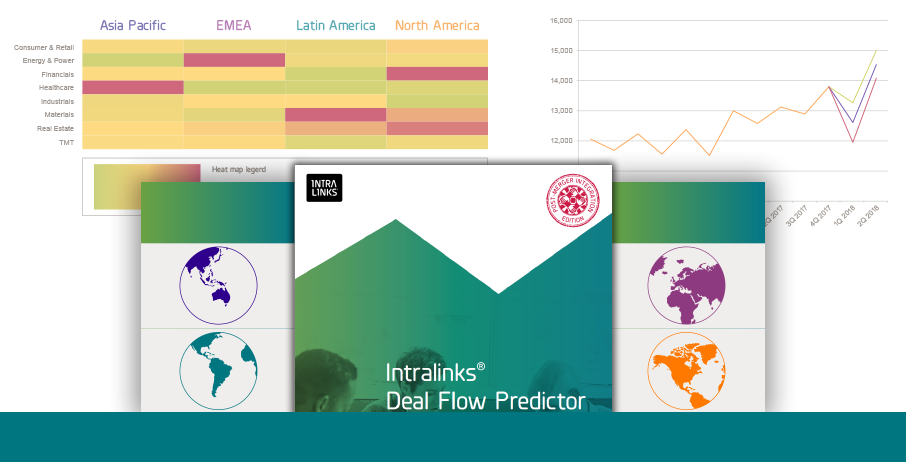 The Q2 2018 edition of the Intralinks Deal Flow Predictor report has just been published. Independently verified as a highly accurate six-month forecast of merger and acquisition (M&A) activity, our most recent report provides proven predictions for announced M&A volumes through 1H 2018.

The Intralinks Deal Flow Predictor forecasts the number of future M&A announcements by tracking early-stage M&A activity – new sell-side M&A transactions across the world that are in preparation or have begun their due diligence stage. These early-stage deals are, on average, six months away from their public announcement.
Global outlook

In Q4 2017, worldwide early-stage M&A activity rose 12 percent year-over-year (YOY), which was the highest percentage increase since Q1 2017, and more than twice the rate of growth observed in the preceding two quarters. Concurrently, according to data from Thomson Reuters and Intralinks' own analysis, the number of worldwide announced deals increased by 6 percent YOY.

Our predictive model forecasts that the number of worldwide M&A deals announced during 1H 2018 is expected to increase by approximately 6 percent compared to 1H 2017, with up to 10 percent growth a possibility. The mid-point of our forecast is for over 27,000 worldwide announced M&A deals in 1H 2018, a new record for worldwide annual first half announced deal count.
Positive impacts

The dealmaking environment has been supported by a combination of a pickup in global economic growth, moderate inflation in advanced and emerging economies, buoyant asset markets and historically low interest rates.
Threats

Political and financial risks remain the two major threats to M&A markets. Increases in economic nationalism, protectionism and restrictions on global trade and cross-border economic integration may negatively impact dealmaking sentiment. With global equity markets recently at record highs, and nine years since the last major trough, a correction that turns into a more serious sell-off could also prove damaging to dealmaking confidence.

If you want to know the future of global M&A six months ahead of everybody else, download your copy of the Intralinks Deal Flow Predictor here to read:
Global and regional M&A predictions for 1H 2018, including a heat map on sector activity
A spotlight feature on post-merger integration and deal success
An interview with Professor Scott Moeller, the director and founder of the M&A Research Centre at Cass Business School, and Philip Whitchelo, vice president of Intralinks, on the findings of their recently published study into abandoned acquisitions and how to avoid the deal failure trap
Philip Whitchelo
Philip Whitchelo is Intralinks' Vice President of Strategic Business & Corporate Development