Latin America M&A activity predicted to rebound over the next two quarters
Latin America M&A activity predicted to rebound over the next two quarters.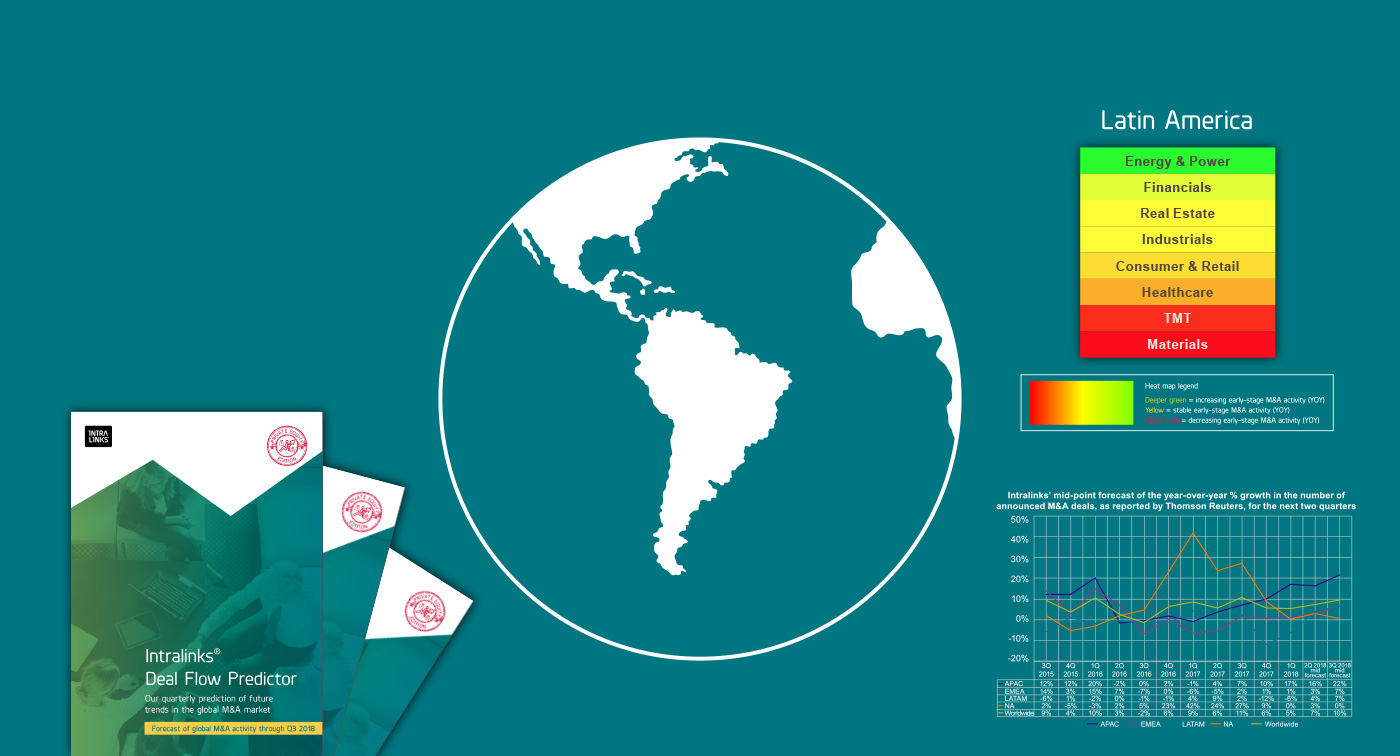 The Intralinks Deal Flow Predictor forecasts the number of future M&A announcements by tracking early-stage M&A activity – new sell-side M&A transactions across the world that are in preparation or have begun their due diligence stage. These early-stage deals are, on average, six months away from their public announcement.

According to the latest Intralinks Deal Flow Predictor report, the number of announced M&A deals in Latin America (LATAM) is forecast to increase by around 5% year-over-year during the next six months, the fastest rate of growth in M&A activity since Q2 2017. Over the next two quarters, we expect the strongest growth in LATAM M&A announcements to come from the energy & power and financials sectors in Mexico, Peru and Argentina. Levels of M&A announcements in Brazil and Colombia are set to decline, reflecting weaker early-stage M&A activity in those two countries.

If you want to know the future of global M&A six months ahead of everybody else, download your copy of the Intralinks Deal Flow Predictor here to read:
Global and regional M&A predictions for Q2-Q3 2018 and sector activity heat maps
A spotlight feature on private equity dealmaking
An interview with Philip Thomas, Partner at law firm Reed Smith LLP, on how the GDPR will affect M&A
Enrique Barrios
Enrique Barrios has over 20 years of experience in architecting and delivering business and technology solutions to large companies in the US and Latin America, starting his career at Andersen Consulting (Accenture), as part of the Southeast Region of the US, and taking on roles such as Head of Sales for Novell Latin America (HLA). Enrique received a degree in Industrial Engineering and an MBA from Oregon State University, and is fluent in English, Spanish and Portuguese.