CASS Report: Masters of the Deal, Part II
This 20-year study – the largest ever analysis of shareholder value creation from M&A – analyzed the performance of 25,000 global public companies, of which 18,000 were actively engaged in M&A, and 265,000 deals.
The research identifies the common attributes of the M&A strategies of a group of 1,469 of those firms, referred to in the report as "Excellent Corporate Portfolio Managers" (ECPMs), which were found to have consistently outperformed their peers in delivering above-average total shareholder returns.
For the complete list of ECPMs, Click here
Julian Walker, Group Corporate Affairs Director, Amec Foster Wheeler plc., said "Everyone likes to receive recognition for a job well done and it is especially pleasing to receive such an accolade from reputable historic research, assessing our performance over a number of years."
Andrew King, CFO, Mondi Group, an international paper and packaging company, said "Since our demerger from Anglo American in 2007 Mondi has adopted a disciplined, value focussed approach to investment and growth, with the aim of offering shareholders attractive returns over the long-term. We are delighted that as a result of this strategy we have been recognised by Intralinks as an Excellent Corporate Portfolio Manager."
Dr Christof Nesemeier, CEO, MBB SE, a German industrial holding company, said "MBB SE is proud to be named an Excellent Corporate Portfolio Manager by Intralinks and Cass Business School. It is great to receive recognition for delivering superior shareholder returns across 20 years through M&A. We intend to continue maximizing total shareholder return by way of organic growth and future acquisitions."
Matthew Olton, Senior Vice President, Corporate Development, of EMC Corporation: a global leader in enabling businesses and service providers to transform their operations and deliver IT as a service, said: "EMC is honored to be recognized as an Excellent Corporate Portfolio Manager by Intralinks. We take pride in EMC's reputation for transaction execution and our ability to cultivate, protect and nurture both the culture and identity of acquired assets, which are both central to EMC's growth-centric approach to M&A. We believe this approach differentiates EMC in the market, and is fundamental to creating long-term shareholder value."
Tony Alford, CEO, Retail Food Group, said: "Retail Food Group Listed on the ASX in 2006 with the motivation of becoming the principle aggregator of retail food franchise systems, initially within Australian and subsequently internationally. Acquisition activity undertaken thus far has resulted in a substantial increase in outlets and Brand Systems under the Company's stewardship, namely 330 outlets and two Brand Systems in 2006 to in excess of 2,500 outlets and 12 Brand Systems in 2015. In addition, RFG has been able to partake of acquisition activity which has facilitated significant vertical integration and in particular, coffee, roasting and allied beverage wholesale. M&A remains a key element of the Company's strategic growth platform, as RFG and its stakeholders benefit exponentially from such activity – not only with respect to the assets acquired but the scale and leverage delivered to the Company's existing business units. Successful acquisitive activity fosters unprompted vendor enquiry and ultimately accords RFG 'acquirer of choice'." 
Jane Okun Bomba, SVP, Chief Sustainability, IR, and Communications Officer, IHS said: "Our acquisition strategy and the manner in which we execute on it – with rapid and complete integration of acquired companies – is a strategic differentiator for our company. Delivering value through a balanced combination of both acquisitions and organic growth has allowed IHS to deliver tremendous value to stakeholders. We're pleased to be recognized for delivering superior shareholder returns as a result of our corporate development activities." 
How do some firms create market-beating shareholder value from M&A?
Watch Professor Scott Moeller of City University London's Cass Business School and Philip Whitchelo, Vice President of Intralinks, as they present key highlights from their recent report, "Masters of the Deal: Part 2 - Learning from the best performers".
Watch the webinar replay and find out how they did it.
*in creating shareholder value from mergers and acquisitions (M&A).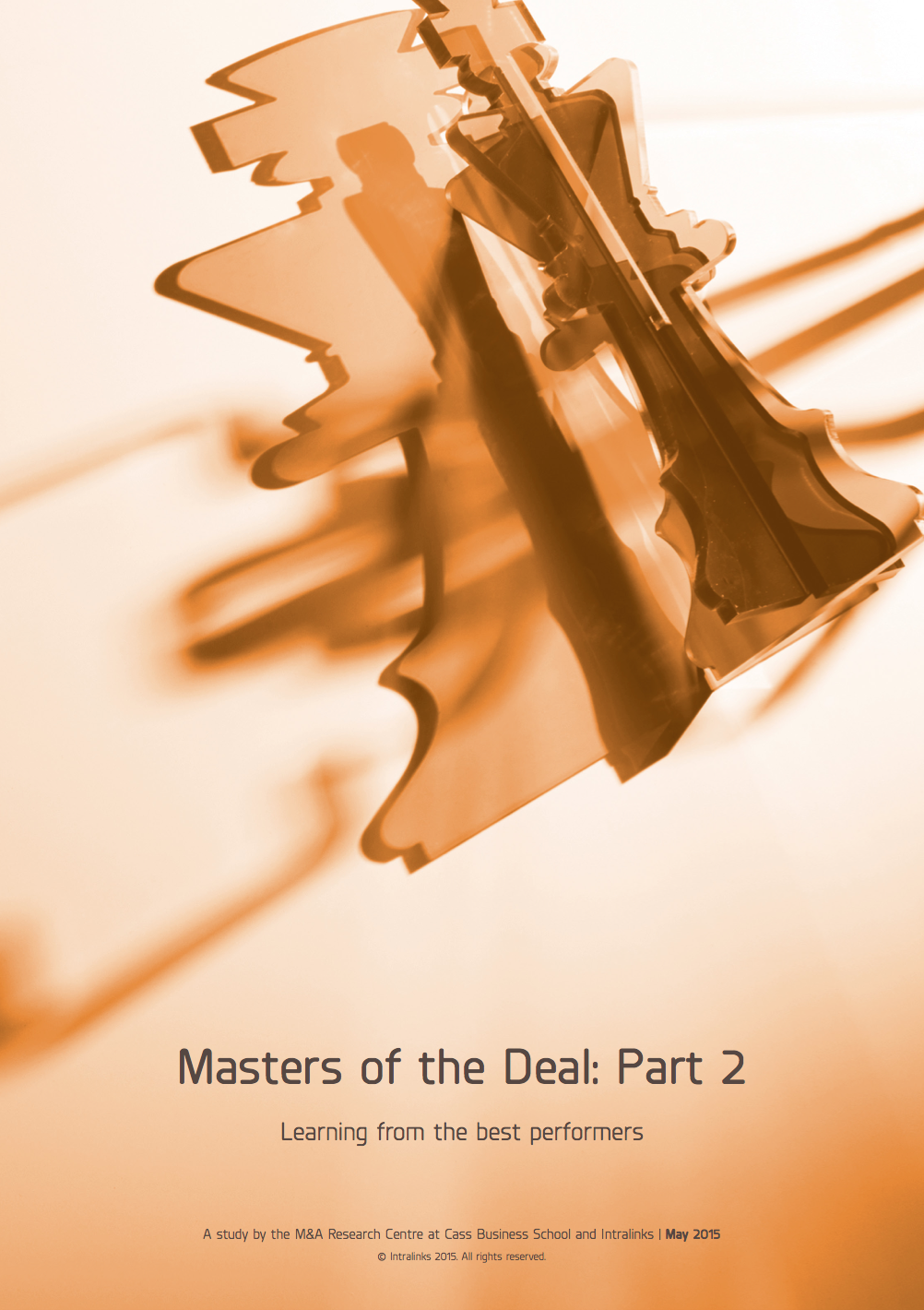 Download the Report