4 minutes
Private Equity Fundraising Poised (Again) for Record-Breaking Year
20 January 2022
Investor optimism abounds, but will the massive influx of capital continue to flow to the private markets?
2021 was a banner year for private equity (PE) fundraising despite uncertainty surrounding new COVID-19 variants, rising inflation and supply-chain challenges. In the wake of a global economic recovery fueled by low interest rates and market confidence, general partners (GPs) leveraged technology to raise funds virtually. Their Herculean effort paid off. In the end, limited partners (LPs) raised more than USD one trillion for private capital funds. Now that we've turned the page on the calendar to a new year, the asset class shows no signs of cooling off.
In Alternative Allocations: The Future of Fundraising, our newly published report using data provided by PitchBook, we dig into the drivers of private capital fundraising activity in 2021 and why 2022 is expected to be another record year for PE fundraising. The report also covers regional market trends and sectors to keep an eye on in the coming 12 months.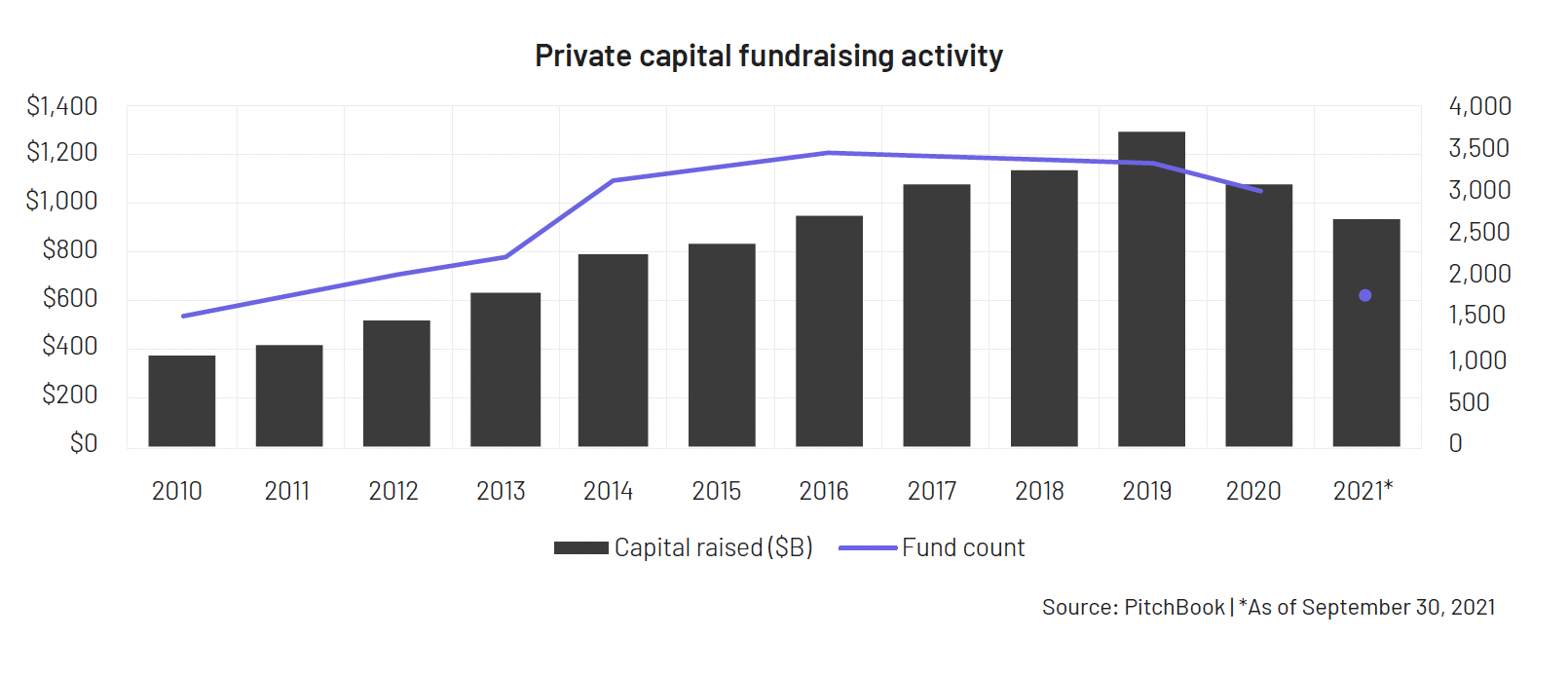 Highly competitive marketplace
By the end of 2021, we saw a drop in the total number of closed funds when compared with 2020. Still, activity has been competitive, with a heavy focus on venture capital (VC). Last year, VC funds accounted for nearly half of all private capital vehicles closed and have the largest proportion of experienced fund managers closing when compared with emerging fund managers.
This quick growth in the VC markets has had two impacts. First, fund size has been skyrocketing due to widespread competition. This leads to the second major impact: Performance demands are becoming more stringent, on pace with the high levels of investment. There's a growing demand for strong liquidity where there was once more flexibility allowed. In short, bigger investments are driving the demand for bigger and faster results.
The ESG effect
With many institutional allocators focusing their investments on environmental, social and corporate governance (ESG) concerns, fund managers will concentrate on sustainability and ESG adoption in 2022. Though challenges are present, managers will need to demonstrate how their thesis aims for the reduction of greenhouse gas emissions and accounts for other ESG considerations.
VC firms will continue to invest in clean technology targets, from battery storage to electric transportation. PE and infrastructure funds are eyeing Real Estate in a myriad of creative ways. Real estate firms are searching for bargain industrial and retail assets with an eye toward cheaper operating costs due to lower energy consumption and potentially cleaner, more sustainable building procedures.
What limited partners want
For some LPs — especially the most risk-averse — this demand for faster, more reliable growth has contributed to the shift away from first-time funds. Overall, firms have opted to stick to fund sizes that align with prior, more time-tested investments. 
Sustainability and related markets are still very much in play for investors, driven by the global conversation around environmental, social and governance (ESG) efforts. Venture firms are investing steadily in clean technology, primarily in battery storage and electric transportation. This is still considered a challenging mode of investment, given the time required for engineering teams to make good on founders' lofty visions. Accordingly, relatively few of the closing funds are purely focused on sustainability.
According to our research, much of the investment push in Sustainability comes from Europe, which shares the largest concentration of private capital fundraising with North America. Together, these two regions make up about 60 percent of global volume. However, investments in other regions appear notably healthy when viewed through historical data. Major firms are showing more movement in previously low-activity regions like sub-Saharan Africa and Latin America. SoftBank's plans to raise a second Latin America-focused fund is just one example.
Conclusion
Given the record figures we're seeing in private capital, fund managers should have plenty to work with in 2022. With sky-high valuations and deal multiples everywhere, look for managers to be overwhelmingly scrutinous in their due diligence and operational execution. Cautious optimism will likely be the name of the game well into the decade.
Read all about what lies ahead by downloading Alternative Allocations: The Future of Fundraising here.
Meghan McAlpine
Sr. Director of Strategy and Product Marketing
As Sr. Director of Strategy and Product Marketing for Intralinks, Meghan McAlpine is responsible for the go-to-market strategy and driving the growth of the company's Alternative Investments solution, the leading communication platform for private equity and hedge fund managers and investors. 
Prior to joining Intralinks, Meghan worked in the Private Fund Group at Credit Suisse. While at Credit Suisse, she raised capital from institutional and high net worth investors for domestic and international private equity firms.  
Sign up for our newsletter for must-read market analysis and thought leadership, delivered right to your inbox.